CSIRO HELPS SLEEP DISORDER START-UP MAKE ITS DEBUT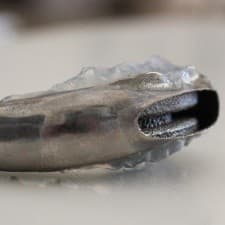 CSIRO partner Oventus Medical Ltd has today listed on the Australian Securities Exchange raising $12m.
The CSIRO and their partners Oventus Medical ltd, that manufacture sleep apnoea devices, have listed on the Australian Securities Exchange raising $12 million.
The company has been working with the CSIRO over the last two and a half years to help create their product and grow business.
Oventus, a Melbourne based company, was approached by the CSIRO in 2014 after dentist Chris Hart had an idea for a mouthguard that would help airflow bypass for any obstructions in a sleep apnoea sufferers airway.
Sleep apnoea is when the walls of the throat come together during sleep, blocking off the upper airway and breathing often stops for a period of time. 
Dr Hart had asked CSIRO if they could 3D-print the device dubbed O2Vent™ from titanium, which resulted in the initial prototype that has since successfully completed its clinical trials.
In April this year, the device received FDA clearance opening up the US market for the company.

The O2Vent is a customisable mouthpiece which is 3D-printed to the precise dimensions of a patient's mouth, ensuring optimal airflow during sleep, reducing the effects of snoring and sleepapnoea.

Oventus Founder Dr Hart said CSIRO provided the opportunity to access new 3D-printing technologies through their Lab22 facility.
"This allowed us to explore new and innovative manufacturing techniques with a reduced investment risk," Dr Hart said.

"Using 3D-printing to manufacture the O2Vent sleep apnoea devices offered us huge advantages over traditional manufacturing methods including speed and cost.
"This partnership has made us globally competitive," he said.
Oventus is hoping O2Vent will disrupt the multi-billion dollar market for sleep apnoea solutions.
An estimated one million Australians suffer from sleep apnoea.
The product's prototype was first made in  he CSIRO's Lab 22 Innovation Centre in Victoria, using an Arcam 3D printer.
CSIRO's Mr Stefan Gulizia said the idea of designing and 3D-printing completely customised mouthpieces seemed revolutionary at the time.
"It has been exciting helping Oventus progress this novel idea to a manufactured product and seeing the success of the company as it lists on the ASX today," Mr Gulizia said.
Oventus' fully-subscribed IPO has raised $12 million that will be injected into the commercialisation and distribution of their O2Vent sleep apnoea devices.