CROWN LAUNCHES VERSATILE MPC 3000 SERIES LIFT TRUCK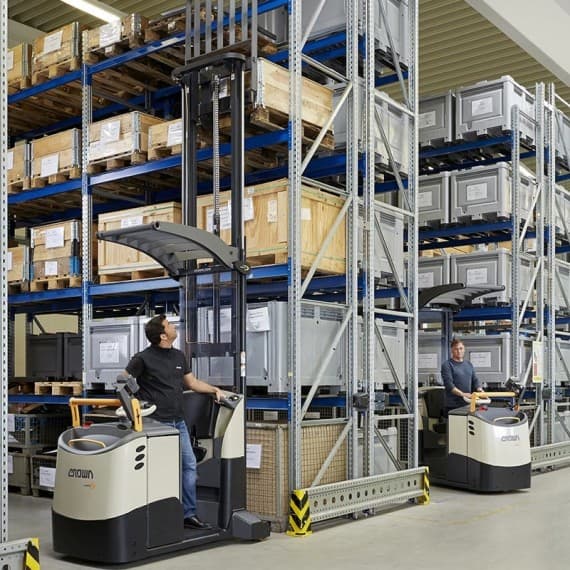 Crown Equipment has launched a new series of state-of-the-art lift trucks combining the benefits of an order picker with the advantages of a counterbalance forklift.
The new Crown MPC 3000 Series combines a high-lift, clear-view mast with an outrigger-free counterbalance design and an ergonomic ride-on platform – a combination that creates a versatile, multi-purpose lift truck capable of performing tasks usually requiring more than one piece of equipment.
It features the tried-and-tested Crown AC traction motor for reliability and powerful acceleration, and is capable of travelling up to 12.5km/h and lifting 1200kg to a height of 4.3m.
It can lift full-capacity loads (at a 600mm load centre) to the full height of the mast.
MPC 3000's all-round solid steel construction is designed and tested to withstand intensive use while its large, long-life load wheels are easily accessible for quick replacement.
The MPC 3000 automatically adjusts cornering speed and acceleration depending on steer wheel angle, fork height and load weight, for stability.
Combined with responsive brakes and a suspended, shock-absorbing floorboard, MPC 3000 maximises operator safety, comfort and confidence.
The MPC 3000's layout makes it ideal for order picking as well as replenishing low-level pick slots from high-level storage, an activity that usually requires separate reach trucks and high-lift trucks.
A lack of outriggers aids work in close proximity to machinery, sandwich-stacking four-way pallets and manoeuvring in tight or congested areas efficiently and safely.
MPC 3000's nested I-beam mast construction, plus clear-view fork carriage and overhead guard, provides operators with an almost unobstructed field of vision both forwards and upwards for swift, precise and safe usage. Optional lift/lower buttons on the backrest offer even better vantage points for positioning loads both on and off the truck.
Crown Product Engineering Development and Support Manager Michael Croxford said Crown has delivered a highly developed product capable of streamlining lift truck fleets and increasing efficiency for an array of material handling operators.
"With the MPC 3000, Crown has delivered a state-of-the-art machine capable of performing multiple warehousing tasks such as order-picking and sandwich-stacking multiple pallets while reducing the amount of equipment required," Mr Croxford said.
"It is also capable of simplifying the put-away process at the receiving facility in certain applications.
"Combined with its ergonomic refinement, reliability, durability and operator safety features expected of Crown equipment, the MPC 3000 is capable of reducing operating costs and saving time in a number of applications."
Crown Forklifts
Ph: 1300 072 752