CROWN LAUNCHES SC 6000 SERIES LIFT TRUCKS
15-03-2016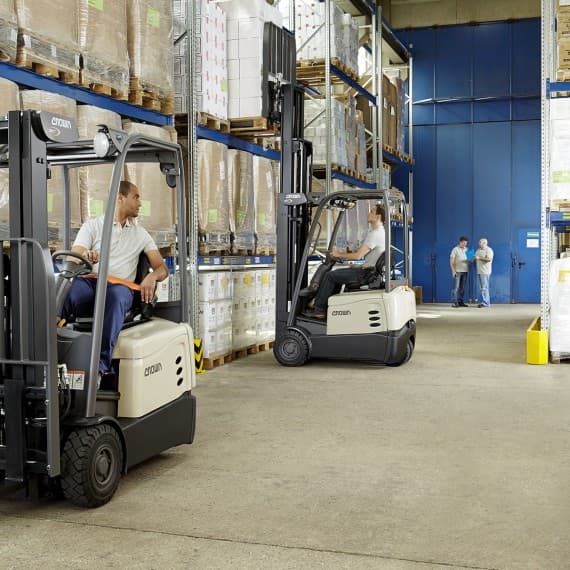 Crown has the launched the new SC 6000 Series of electric lift trucks that deliver a combination of stability, manoeuvrability, durability, advanced technology and task-focused ergonomics.
Recently launched in Europe, the new three-wheel and four-wheel models are now available in Australia.
The new models feature capacities of up to two tonnes and lift heights of up to 7.5m.
They are capable of performing a wide variety of material-handling tasks in indoor and outdoor conditions.
Four-wheel models feature a Crown-developed four-wheel steering system, providing a turning radius and manoeuvrability that rivals three-wheel versions.
Rigorous long-term in-house testing and field trials ensure its performance and reliability will meet Crown's exacting standards.
The SC 6000 Series incorporates Crown's proven ergonomics for operator comfort, control and work safety. Its low step height of 375mm and ample head clearance make cabin access easy, while the overall design gives operators clear views in all directions and freedom of movement – even when fitted with the optional soft or hard cabins.
Newly developed fingertip control levers and clear view of both front wheels helps operators take full advantage of the manoeuvrability the SC 6000 offers.
Other SC 6000 features help contribute to the safe operation of the lift truck.
Nested I-beam masts that minimise longitudinal, lateral and torsional flexibility mean the trucks perform reliably and give operators greater confidence while driving. The automatically activated handbrake and ramp hold function further simplify the user experience.
Crown's patented Access 1 2 3® technology provides customers with dependable, on-board diagnostics in real time.
The Crown SC 6000 also features an intelligent on-board control system that delivers precise control, providing class-leading stability and comfort.
The system ensures that the SC 6000 maintains constant speed on ramps and assists operators by automatically adjusting the operation of control functions in correspondence to different load weights, lift heights, steering angles and travel speeds.
At the heart of all Crown SC 6000 lift trucks are in-house designed and manufactured, high quality, heat-resistant H-class drive motors. They have the highest thermal ratings in the industry, giving the advantages of minimised downtime and maintenance costs and long life expectancy.
The Crown SC 6000's steer axles feature oversized steel/cast-iron construction and heavy-duty tapered roller bearings, which enable the truck to withstand jolts as it travels over rough surfaces and dock boards. The long-life rear-axle steering system has been tested for thousands of hours.
Crown Forklifts
Ph: 1300 072 752