CRM SOFTWARE BRIDGES THE GAP TO MANUFACTURING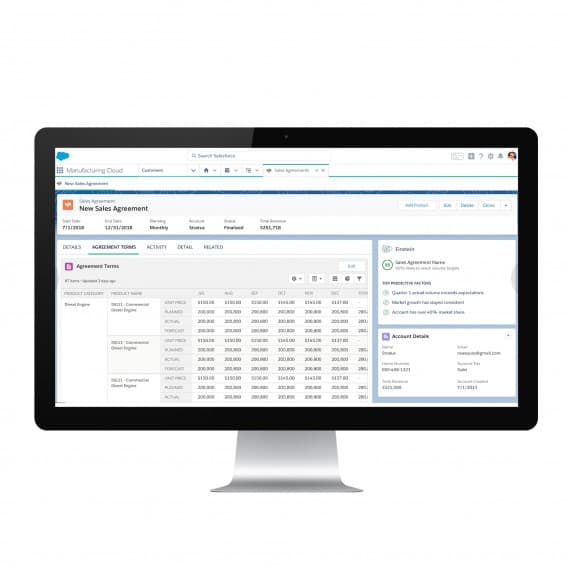 CRM specialist Salesforce has turned its attention to the manufacturing sector with the release of its Manufacturing Cloud. This new industry-specific product aims to bring sales and operations teams together around a unified view of market and customer demands to more accurately forecast, plan and drive predictable business performance.
While it is fair to say that manufacturing industry thrives on predictability, generally speaking operations teams are not always aligned with sales reps to ensure they have a single real-time view of all aspects of their customer relationships.
Many of the important customer insights are hidden among various spreadsheets and ERP systems, and this can not be good for things like service level agreements, account performance and (in the end) the ability to accurately predict demand. This inevitably leads to the holding of excess inventory, increasing warehousing costs and reducing operating margins.
Salesforce argues that this makes the case for a solution that helps manufacturers to understand their customer needs while improving visibility across the entire value chain.
The company has collaborated with major manufacturing and sales companies through the product pilot programme, including Kawasaki Motors Corp, Hitachi Chemical, CF Industries, Mipox, and others. As a result, Manufacturing Cloud incorporates a number of manufacturing-specific features.
For example, Sales Agreements allow manufacturers to unify their run-rate business with data housed in ERP and order management systems with the contract terms negotiated (including planned volumes and revenues) so both operations and account teams can have a 360-degree view of the customer.
If any changes to the agreement are needed, they are immediately incorporated into the existing sales agreement, ensuring there is always a single source of truth.
Account-Based Forecasting provides manufacturers with a complete view of their current business alongside future opportunities. This allows sales, finance and operations teams to develop more accurate forecasts while breaking down internal silos.
In addition to Manufacturing Cloud, Salesforce is also releasing new manufacturing-specific innovations across the Salesforce Customer 360 Platform to help manufacturers deliver greater transparency, streamline collaboration and grow their businesses.
Einstein Analytics for Manufacturing provides account managers with access to an intelligent experience with out-of-the-box KPIs into account health, demand insights, product penetration and sales agreement progress.
Community Cloud for Manufacturing will deliver a new template specific for manufacturers that extends sales agreements to channel partners, allowing them to easily collaborate together on leads and opportunities.
And the MuleSoft Anypoint Platform unlocks data from any application, data source or device, whether that data is on-premise or in the cloud. By enabling organisations to connect Manufacturing Cloud with other systems, sales and operations leaders can automate the complete order-to-cash process, create a comprehensive forecast view and drive business process automation across all sales channels.
Salesforce has a wide ecosystem of partners that will extend the power of Manufacturing Cloud, including such names as Accenture, Acumen Solutions, Deloitte and Rootstock.
Manufacturing Cloud, Einstein Analytics for Manufacturing and Community Cloud for Manufacturing will be generally available in October 2019.
Salesforce
1800 667 638
www.salesforce.com