| Article appears in October 2021 Issue
A Critical Component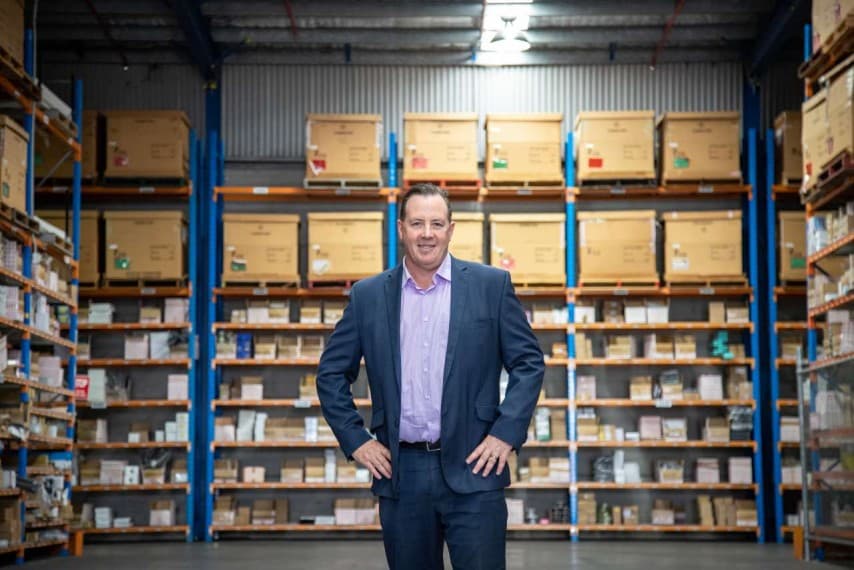 Scott Philbrook, Managing Director at RS Components demonstrates extraordinary innovation and introduces their exciting new portfolio
RS Components, the high-service distributor of electronics, automation and control components, tools and consumables, have just launched their new RS PRO Facilities Maintenance solutions portfolio, which includes an astonishing 1,000 new products.
"We are constantly refreshing our range, especially our PRO range which is our own home brand. We're always looking to increase the breadth and depth of our products. These new products cover over 80 different product families and so it shows how broad we go with some of our categories, and we look for new lines in areas of importance. In the current pandemic that is safety, janitorial products and cable-management areas." Scott says.
The customer-focussed managing director expands: "We have a lot of consumable items – facility maintenance products, we are constantly evolving, we work with our customers closely to look at what their high-dependency items are, and we make sure we have a variety of new products."
"I think from an ethos perspective, we're all about innovation and our vision is to be the first choice to our customers, our suppliers and our own people. Our focus has been to be a product and solution supplier. We support our customers both from a developer's point of view to actual builders, assemblers and the maintenance of the products and services. Our approach is omni channel – we promote heavily being an omni-channel business so 65% of our business is digital and we re-enforce that with our people. We provide one-to-one account management to help deliver a certain level of service to our customers."
With a portfolio so large – the company has got over 600,000 products online across 2500 suppliers – it would be impossible to play favourites, but Scott says he is most proud of their home brand.
"The reason is we are constantly involved in that to meet our customers' needs – and the most important thing to me is that we back-up that with quality We provide a three-year warranty on all our RS PRO products, and that's now over 40,000 product lines. And the RS PRO brand can roughly provide around a 30% saving brand-for-brand, like-for-like so that's something I'm proud of."
Like many companies worldwide, RS Components haven't escaped the effects of the pandemic. However, with agility and innovation, two of the company's core strengths, they continue to thrive.
"We're quite fortunate," Scott concedes. "On the positive side we had already established a really strong digital platform, we have actually expanded our customer base during the pandemic. We haven't been immune to the challenges though and cost implications of keeping the supply chain going. Our warehouse teams have been under a lot of pressure to make sure we can turn up and operate and deliver the goods to our customers. We've been able to mitigate some of the risks on the supply chain and also, we've revved up our local inventory holding both at a local level and at our global distribution centre.
"We're really heavily invested in inventory to make sure we have the products when the customers need them. And I think from a customer perspective, what we're really focussed on is growing our e-solutions for our customers and helping them automate their procurement process."
"I think the impacts of the pandemic have really fast-tracked how business adopt new technologies, their operations. They've had to change ways of working; we've seen a considerable rise in automation and robotics into day-to-day operations and obviously there's going to be new innovations in that space. AI, virtual reality, augmented reality.
"Any manufacturing company needs to be ready to be responsive, to safeguard the full value chain. And when I talk about value chain, I'm talking about the full process from raw materials to the actual manufacturing process to delivery to the customer.
"We work a lot with our customers with data-led insights. We are heavily data driven, we are involved in the supply chain and provide insights of what the facilities are spending, we try to create a partnership.
"That's the path most manufacturing companies in Australia are going to go down – developing more strategic partnerships with suppliers, to help de-risk the supply chain and also work together on using that available data to measure operational efficiency. On any facility there is a lot of data available, and I think RS Components can help bring insight to that data and help increase the productivity of manufacturing while ensuring the safety and wellbeing of team members during the process."
RS Components have certainly stood the test of time, the company began back in 1937, and so has weathered many storms.
"It was typically an electronics business and I think there's the perception that we're an electronics business but anyone who goes onto our website will see we go across a number of different product categories. We have so many different offerings for our customers.
"I think it's critical to be constantly evolving and that is what we're always doing. Whether it's investment or capabilities or acquiring more businesses. We're never sitting still as a business, which is the exciting part of being RS Components."