CRANE SAFETY SYSTEM WINS GOOD DESIGN AWARD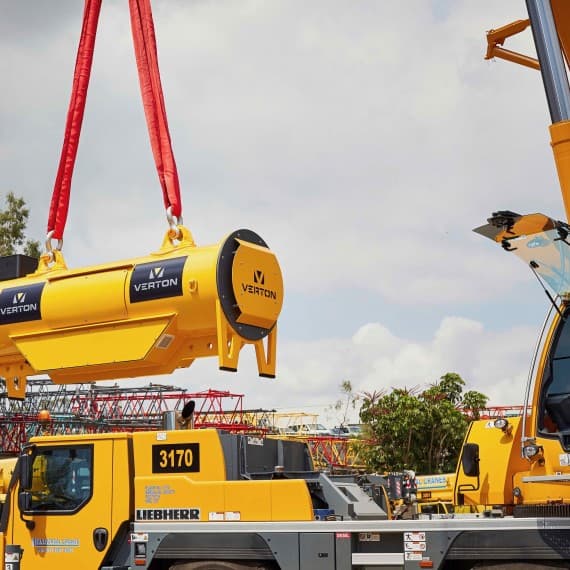 A remote-controlled load-management system for all crane operations, which eliminates the need for human-held taglines and keeps people out of harm's way, has won Best in Class in the Engineering Design category of the 61st annual Good Design Awards announced at The Star Casino in Sydney.
The awards jury praised the R-Series from Brisbane-based lifting and orientation specialist Verton Australia, commenting: "The simplest ideas are always the best! The Verton R-Series uses such a fundamental principle of dynamics to great effect and with minimal moving parts. Importantly, it effectively addresses a key safety issue when manoeuvring large lifts into place and will be instrumental in the constant striving to make construction sites safer places to work. This scores high on every criteria. Exemplary innovative engineering design leading to a step change in safety for crane operations. Return on investment in 12 months due to speed gain is a real plus."
Verton Australia CEO Trevor Bourne said the award caps off a massive year so far for Verton and the R-Series, which is attracting worldwide interest from transport, construction, renewable energy and mining companies.
"This award is a tribute to the vision of Verton's founder and the R-Series inventor, Chief Technology Officer Stanley Thomson, and all of our hard-working management and staff," he says.
"The R-Series is manufactured in Brisbane and we would particularly like to thank the Queensland Government's Business Development Fund for their support. The R-series is already supplied to national crane hire company Universal Cranes and mining services company MACA Interquip.
"Verton was recently selected to take part in the PortXL Port and Maritime Accelerator program in Rotterdam, Netherlands, where it established partnerships with global marine contractor Van Oord, international heavy lifting and transport specialist Mammoet and wind turbine supplier Vestas to further develop a new, safer lifting method for installing wind turbine blades.
"The R-Series provides unprecedented safety for crane operations as it eliminates the need for tagline use and workers will no longer be near the danger of moving loads. It also improves efficiency and productivity. We hope our product will be used all around the world."
With a proud history dating back to 1958, the annual Good Design Awards are Australia's most prestigious international awards for outstanding industrial design and innovation, celebrating the best new products and services on the Australian market. This year's awards attracted a record number of submissions, with the jury evaluating close to 700 entries.
"Receiving a Good Design Award at this level is a significant achievement given the very high calibre of entries received this year," Good Design Australia CEO Dr Brandon Gien said. "Australia's Good Design Award is more than a symbol of design excellence; it represents the hard work and dedication towards an innovative outcome that will ultimately improve our quality of life. These projects showcase the brilliance of design and the potential it has to improve our world."
Verton Australia
(07) 3217 5803
www.verton.com.au