CRANE INCREASES PORT'S THIRD-PARTY CAPABILITY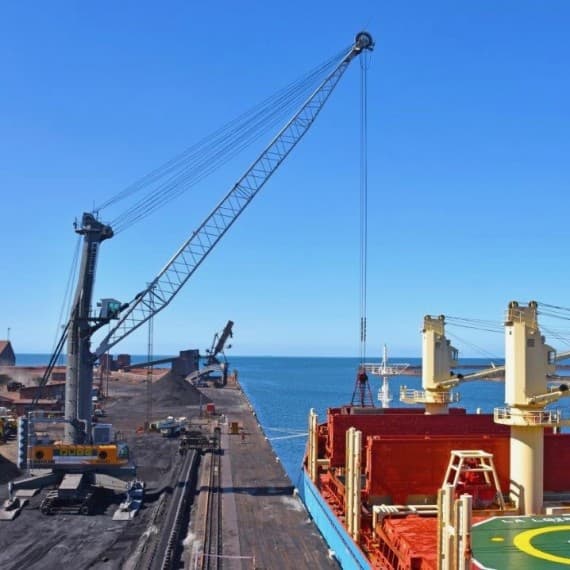 The installation of a new, state‐of‐the‐art mobile harbour crane in Simec Mining's port in Whyalla, South Australia has further increased the port's third‐party cargo capabilities. The impressive crane will replace the long‐serving stockbridge and significantly improve the port's reliability and productivity through increased capability and reduced cycle times.
Simec Mining Executive Managing Director Matt Reed says the new crane is another step toward transforming the port into a world‐scale, multi‐user facility.
"This is all part of opening up our facility to the global shipping market," he says. "The new equipment more than doubles our capacity per grab, while offering an hourly load rate nearly five times that of the old stockbridge. It also enables us to handle not only bulk and break bulk, but also container and rotainer services for the first time, so it completely changes our cargo capabilities.
"The fact it's mobile also offers a host of unique advantages – including being able to assist other areas within the steelworks. Combined with the increased stevedoring and port capability of our new contractor partner Qube, we expect to significantly ramp up third‐party involvement in the facility."
Simec has already attracted increased third‐party usage, and recently completed the transport of components for the Lincoln Gap wind farm near Port Augusta.
Mr Reed says this is part of the transition to a more open port that can meet the extensive needs of both internal and external customers.
"Although we've demonstrated our ability to transport numerous third‐party cargoes in the past, the wind farm shipment proved our capability to handle more than just mining and manufacturing‐related materials, and so has created increased interest in the transport industry," he says.
"We will continue to adapt our infrastructure, systems and processes in conjunction with Qube to establish a world‐class facility."