CRANE ASSESSMENT HIGHLIGHTS UPGRADE REQUIREMENTS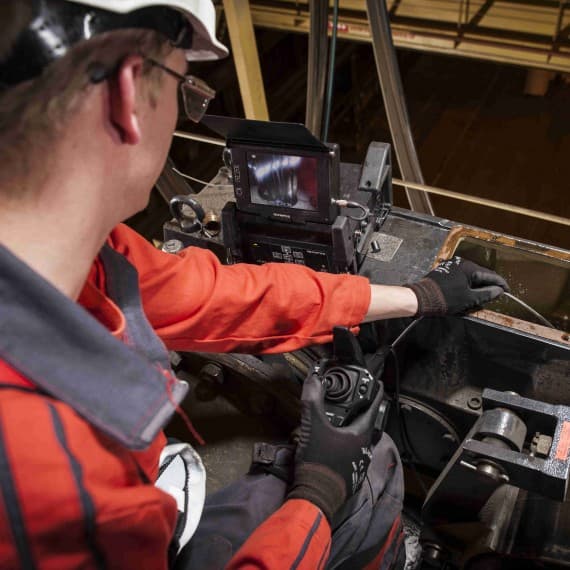 Konecranes has completed a Major Assessment of a production-critical crane used in WesTrac's Newman, WA workshop, which has saved the company downtime and cost, as well as enhanced safety and productivity for ongoing use.
The 40t double-girder crane is used to lift components for WesTrac's repairs on its customer's dozers, graders and loaders, such as power train overhaul, where it lifts components like engines, pump drives, torque convertor transmissions and final drives.
The Konecranes Major Assessment looks at structures, mechanical components and electrical systems, and highlights possible maintenance, modernisation or upgrade needs while ensuring standards compliance, including AS2550.1 2011 Section 9.
"The service from Konecranes was first class. The technicians were organised and professional. And most importantly to our operations, they caused minimal disruptions by completing all their work on the crane within the day," says Clint Dallow, WesTrac Branch Manager – Newman.
WesTrac, which employs more than 2700 people in Australia, provides equipment management to the mining, construction and transport industries and is one of the largest authorised Caterpillar dealers in the world.
"We've been using this crane for around 20 years now, but its usage can vary from being used intensely one week to not at all the next. Konecranes understood our individual needs and made recommendations accordingly," says Dallow.
Konecranes recommended two immediate upgrades for WesTrac's crane. The first was a Konecranes ControlPro datalogger, which allows all relevant data about the crane's usage to be collected, so that next time maintenance is needed, the technicians know exactly where to target, rather than having to take the entire crane down and look at each component individually.
The second upgrade was to install a load display, which is a digital screen that shows exactly how much the crane is lifting. "The load display is great for the safety of my team. It makes sure they're always lifting within the safe working limits of the crane," says Dallow.
According to the Konecranes internal sales representative responsible for the project, Jeevan Pattian: "This Major Assessment was done as part of a compulsory 10-year inspection of the entire building, but there are other reasons why an assessment may be undertaken to benefit businesses like WesTrac.
"If you're not sure if your cranes are capable of meeting growing production demands, or if you're using your crane for purposes other than the originally classified purpose, for example.
"If you aren't sure if it's time to modernise, or are concerned that new safety issues have arisen since a crane was first installed, a Major Assessment can give you all the relevant information, and a Konecranes expert can sit down and explain the possible courses of action."
Konecranes
1300 937 637
www.konecranes.com.au