COURSES TEACH EFFECTIVE MANAGEMENT OF CORROSION
17-03-2017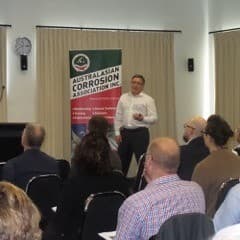 The Australasian Corrosion Association offers a range of technical seminars and training courses that teach best practice in effective and efficient management of corrosion. These courses offer the most up-to-date corrosion control information available and are designed to produce competently trained personnel in a variety of corrosion related fields. Members of the Association are entitled to discounts on course fees.
Highlights of the schedule include a two-day hot dip galvanising course. This course, which will next be run on 30th and 31st March, will train individuals to correctly assess the suitability of fabricated steel articles for the hot dip galvanising process and to correctly inspect hot dip galvanised steel articles to ensure compliance to Australian, New Zealand and international standards.
The three-day coatings selection and specification course will be held in Adelaide from 26th to 28th, offering theoretical and practical information on coatings selection for corrosion control. The course is based on the recently updated AS/NZS 2312.1 Standard, and is designed for engineers, corrosion technicians, project managers, coating applicators and others.
Other technical events during 2017 include an introduction to corrosion on 4th May in Adelaide and 18th May in Perth, and corrosion in the oil and gas industry on 23rd May in Brisbane.
Australasian Corrosion Association
03 9890 4833
www.corrosion.com.au