COUNTERFEITERS TO FACE THE MUSIC AFTER BRISBANE PIANO BUST
The impounded pianos and (left) the fraudulent logo
The Australian Made Campaign has revealed the lengths to which some makers of counterfeit goods will go to falsely claim Australian manufacture for their goods, with false claims, a bogus logo and a tortuous import/export route all parts of a recent episode.
Last month, the campaign's offices were informed that Border Force Queensland had intercepted and impounded ten pianos that had arrived at the Brisbane Port from China days earlier. These pianos carried a number of logos and stamps claiming to be "made in Australia" or "Designed and Assembled in Australia" with one closely replicating the iconic green-and-gold Australian Made logo.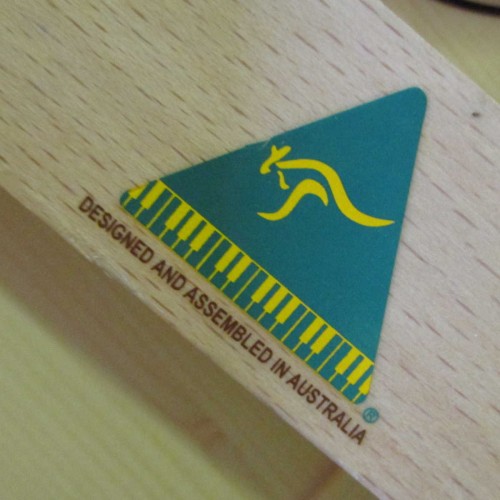 Border Force officials said the imported pianos were due to be transhipped back to China so the retailers involved could provide documentation showing that they had come from Australia.
According to Australian Made Campaign Chief Executive Ian Harrison, the importer had provided evidence that it had registered a "copycat" Australian Made logo as a Class 15 trademark in China in a bid to further con consumers.
"We discovered the logo they trademarked was not even the logo used on the imported pianos – it was a direct copy of our trusted Australian Made logo," he said.
"Fraudulent manufactures like this one have clear agendas; to swindle consumers," continued Harrison. "This was a clear-cut situation whereby the manufacturer's intention was to build dubious-quality pianos in China to pass off as premium Australian Made products to sell back to Chinese consumers."
"They put the bogus Australian Made logos on them to further deceive potential buyers then shipped the instruments to Australia and back again in attempt to have appropriate paperwork in attempt to prove they came from here."
Having originally applied to have the goods released, the importer has since contacted Border Force to rescind its claim on the goods, and so the pianos will be destroyed.
AMCL is now investigating what legal action can be taken to challenge the company's trademark in China.
Australian Made Campaign
1800 350 520
www.australianmade.com.au