Countdown to Safety Show Sydney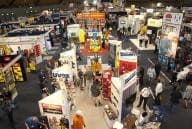 The Safety Show Sydney and Sydney Materials Handling Shows begin next week with new innovations designed to lift productivity and reduce risk.
On show will be innovations like assisted lift devices that enable objects too heavy for humans to lift to be safely guided by hand from pallet to pallet, or pallet to storage and vice versa.
Then there are cut resistant gloves that enable workers to handle virtually any metal, glass or plastic material that risks injury by abrasion, blade cut, puncture or tearing.
These and hundreds of other safety and productivity enhancing products and services will be on show at the Sydney Showground, Sydney Olympic Park from October 23-25.
As an added bonus for visitors, CleanScene, a Trade Show focussing on cleaning and hygiene products and services, will be held concurrently with these shows.
Presented by the National Cleaning Suppliers Association (NCSA), CleanScene has attracted more than 100 exhibitors of products and services ranging from mould removal, decontamination and sanitization to steam and heavy duty vacuum cleaners, degreasers, ride-on scrubbers and sanitary ware.
Visitors will also be able to attend free industry seminars, interactive demonstrations of new equipment and services and an opening breakfast addressed by Dr Colin Benjamin OAM, strategic thinking consultant and Director General of 'Life, Be in it.' 
At the Materials Handling Show, Millsom Materials Handling will show its vacuum lifting equipment and cranes that enable a single person to lift boxes, sacks, sheet timber and steel up to 2000kg.
The technology is designed to reduce OH&S claims and increase productivity and profitability in manufacturing, warehousing and logistics, medical, automotive, chemical and pharmaceutical, glass and window, and packaging sites.
And at the Safety Show, Ansell, a leader in natural latex and synthetic polymer gloves, will feature a glove developed in response to demand for non-slip hand protection for workers.
The new glove is designed for workers who need a combination of positive grip, advanced chemical protection and comfort throughout work shifts.
The Shows will also feature forklifts, powered platform trolleys, maids, carts and tugs and safety work ware. This includes safety glasses, lighting systems, harnesses, speed bumps, bollards and traffic cones using reprocessed tyres, drug and alcohol testing equipment, workplace health and safety management software, paramedical ambulance services and hand hygiene products and dispensers.
The Safety Show will also feature a series of free workshops and seminars.
The Safety Show Sydney, Sydney Materials Handling & CleanScene
Tuesday October 23
           10am - 4pm
Wednesday October 24
       9am - 4pm
Thursday October 25
          9am - 4pm