Countdown to first ever Darwin Safety In Action show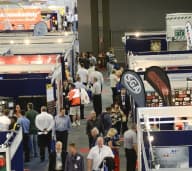 The latest workplace safety issues and solutions will go under the spotlight when Safety in Action hits Darwin for the first time next week.
More than 100 safety leaders will showcase the latest in safety solutions, services and insights at Darwin Convention Centre on March 19-20.
Presented by The Safety Institute of Australia, the event is geared towards helping workplaces achieve real and measurable OHS results.
The Show provides vital information on topics relevant to all industries including mining, construction and engineering.
Safety in Action Darwin will hold a range of exhibits and safety-centric seminars, providing attendees with an informative stream of inspiration and insights to aid compliance with OHS regulations.
Director of Safety in Action Australia-wide, Tony Francis, says he is thrilled to be kicking off this year's Safety in Action series in the Top End, following hugely successful events in Sydney, Melbourne and Brisbane in 2013.
"We are very excited to be taking Safety in Action to Darwin for the very first time and have no doubt that anyone involved in business will find immense value in the free to attend program we're offering, he says.
"We have worked hard to deliver experts and seminars that will not only illuminate the most important OHS issues at play at the moment, but also provide practical and implementable solutions for reducing risk and ensuring regulatory compliance.
"Darwin is currently booming economically, and there has already been immense interest from companies wanting to attend and be part of the show."
Safety in Action Darwin will feature five daily presentations and a panel discussion covering a broad array of safety-related topics – from culture, common sense and consequences of safety in the workplace to hydration and risk assessment.
The free to attend program will open on March 19, with myosh Business Development Manager Adrian Manessis running a seminar on The Benefits and Risks Associated with Safety Software. Following Manessis will be a panel discussion about Workplace Safety: Culture, Common Sense and Consequences. 
Another highlight on March 19 will be Hydration in the Workplace, featuring former Olympic athlete, World Cup Champion and current Thorzt Electrolyte Business Development Manager David Rhodes.
The hot-topic of drugs and alcohol will be in focus when the Drugs and Alcohol in the Workplace panel discussion takes place on March 20.
Other presentations on that day include Dr Matt Brearley's session on Maximising Health, Safety and Performance in the Heat and How to Relieve the Environmental Ignorance of Your Site, a seminar run by Absorb Environmental Solution's Phil Abernethy.
Safety in Action Darwin
When:  Wednesday 19 March 9am - 4pm
            Thursday 20 March 9am - 4pm
Where: Darwin Convention Centre
            Stokes Hill Rd, Darwin
For more info: http://www.safetyinaction.net.au/darwin 

Keep up-to-date with the show on Twitter by following @SIAevents #SIADarwin