Cost savings with new Gemu compact valves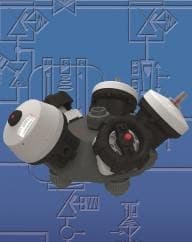 Compact valve solutions save space and installation time and offer considerable cost advantage. 
Multifunctional plastic multi-port valve blocks meet all fluidic and gaseous application requirements in the smallest of spaces.
With its small, lightweight but nevertheless highly efficient plastic diaphragm valve solutions, Gemu, offers a portfolio for compact, safe and cost-efficient plant design meeting today's plant engineering requirements.
Multi-port valve blocks P600 in particular have a major advantage over conventional valve design solutions. 
They are compact, space-saving and, due to their individual design, are able to perform a range of quite different functions in the most confined spaces, such as mixing, dividing, diverting, draining, feeding and cleaning – all in one block.
Safety and control functions as well as the integration of sensors, filters and non-return valves are also possible.
Gemu Australia Pty Ltd
02 4323 4493