Cost-saving electric forklifts from Powerlift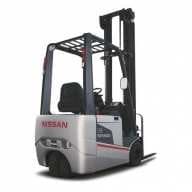 Nissan Forklift has added the TX Series, 3-wheel, AC-powered lift trucks to its line of electric material handling equipment.
Featuring 100 percent AC-powered dual-drive motors and the Nissan Forklift-exclusive AC-tech controller, the highly efficient TX lift trucks provide significantly lower operating costs.
TX models, from Powerlift Material Handling, are available in 1250, 1500, 1600, 1750, 1,800 and 2000kg capacities and include a newly designed vehicle control module. 
Clear communication through an LCD panel readout and keypad allows operators and technicians to identify and respond to truck parameters according to the needs of the application without a separate handset. 
With the use of personal identification numbers, operators can access one of three standard performance modes or tailor a mode of their own. TX lift trucks allow up to five unique operational profiles.
"Nissan Forklift's TX Series of three-wheel, AC-powered electric trucks is a reflection of our continuing commitment to producing products of the highest value that incorporate the most advanced technology in our industry," said Steve Cianci, director of marketing and product management at Nissan Forklift. "The overall truck design allows for a custom fit for individual application needs so that Nissan Forklift customers can not only maximize equipment performance, but workforce performance as well."
TX Series lift trucks are also standard with seatbelt warning alarms, turning speed limits, traveling lift height limits and seat-actuated power interrupt for lift- and tilt-lock.
Powerlift Material Handling
Ph: 1300 550 607