Cost effective way to cut holes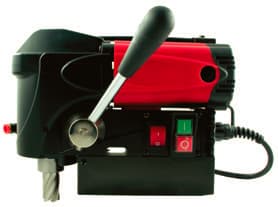 When it comes to cutting holes in metal and plastics, annular hole cutting systems can save time and money.
Annular cutters cut only the outside diameter of the hole rather than the entire diameter. This cutting method uses less energy and takes less time than a conventional twist drill because metal removal is kept to a minimum.
This also reduces wear and tear on the drilling machine and cutter.
The larger the hole diameter, the more the savings.
Available in both High Speed Steel and Tungsten Carbide Tipped forms, and in lengths from 25mm to 110mm, standard annular cutters come in sizes to cut holes from 11mm to 65mm in diameter.
Longer units (up to 100mm diameter) are also available for special orders.
Rotabroach, from Industrial Air Tools, has electric, pneumatic and hydraulic powered hole cutting machines to suit most applications.
These machines are equipped with magnetic bases, which hold them firmly to ferrous metal work pieces and a pipe adaptor kit is also available for use on curved surfaces.
A "Vac Pad" adaptor is also available for use on flat non-ferrous materials.
The latest Rotabroach electric models feature Cutsmart technology with coloured indicator lights. This assists operators in applying the correct feed pressure for optimum cutting conditions.
It also enables an operator to maximise machine and cutter life.
Industrial Air Tools Group