CORROSION ASSOCIATION GAINS MAJOR INDUSTRY FUNDING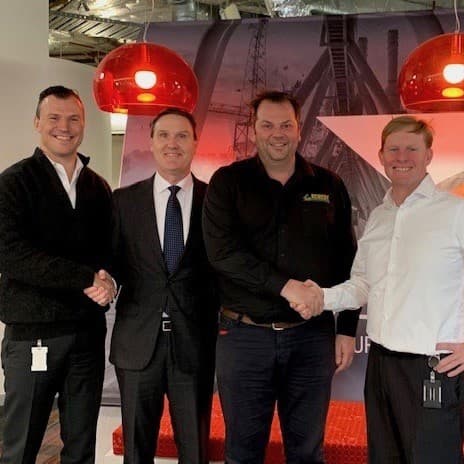 Mirza Kozarcanin, BlastOne, Richard Reilly, ACA, Justin Rigby, ACA and Matthew Rowland, BlastOne
Blasting and coating specialist BlastOne has established a 3-year sponsorship of the Australian Corrosion Association's Applicator Technical Group.
"This deal is ground breaking, and with the support of BlastOne it establishes a framework for the ATG to deliver a potential value of $355,000 directed to our ACA applicator community," says the group's chairman Justin Rigby. "Applicators can join our social media platforms to stay connected with each other and hear about upcoming business opportunities."
The aim is to provide workers in with a career identity and pathway, and to train or retain applicators, through an 'employment passport', financial assistance, social media marketing and a branding strategy. The employment passport will be a database on which workers can display their credentials and mark themselves as 'looking for work' or 'employed'. The financial assistance will provide three applicator field days at the association's annual conference, including displays and demonstrations. The social media marketing will grow the applicator community through LinkedIn and Facebook, while the branding strategy will build an image for workers to identify with.
BlastOne will also work closely with the association to establish a Certificate III training module, to help further educate and grow the workforce in the sector.
"The ACA welcomes the support of BlastOne of its Applicator Technical Group and sees a strong partnership forming for mutual benefit," says ACA Chief Executive Richard Reilly. "The applicator community is one of ACA's key membership segments and the support of BlastOne will bring forward the growth and technical capability of this important industry sector."
The association thanks BlastOne for its contributions to and support of the technical group, and for contributing to the assistance required to drive growth, expand training offerings relevant to the industry and advocate for the value of corrosion prevention and management.
Australian Corrosion Association
03 9890 4833
corrosion.com.au/