CORDLESS PUMP POWERS PORTABLE LOAD TESTING TOOL
04-01-2017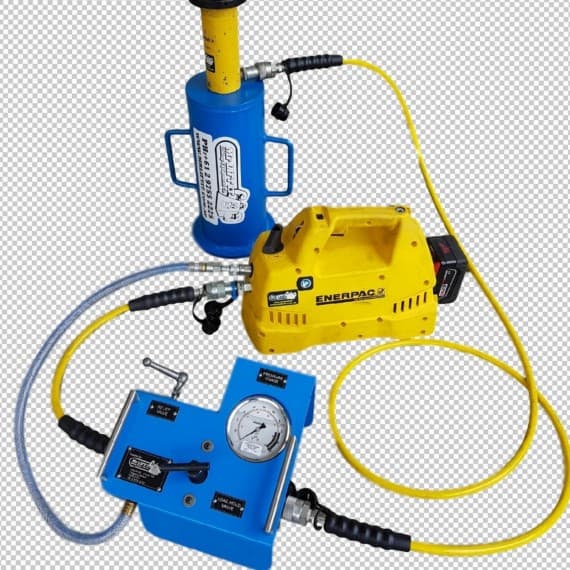 Enerpac has provided turnkey engineering specialist, Mr Lift It, with a flexible and portable solution for its load testing tool, which is used to test eyebolts, pad eyes, roof bolts and anchor points up to 12 tonnes.
The specialised load-testing device uses an Enerpac XC-Series cordless hydraulic pump fitted with a V-66 load holding valve and connected to a stainless-steel control panel. A variable load can be gradually applied using an Enerpac V-152 relief valve.
"The strength of this setup is the flexibility," says Colin Chapman, Director, Mr Lift It. "Having a completely portable setup allows us to perform testing on-site even in difficult positions such as those on or around scissor lifts, boom lifts, tunnels or scaffolding," he adds.
"In addition to portability, being able to 'dial in' pressure relief and make variable adjustments is a huge advantage made possible with the Enerpac valves," says Chapman, whose company provides full turnkey packages. Mr Lift It focuses on providing clients with full solutions, including concept, engineering, fabrication, trials and testing.
Enerpac XC-Series cordless pumps actuate hydraulic tools as fast as a basic electric powered pump and create up to 700bar of pressure. This means that XC-Series cordless pumps are up to five-times faster than manual hydraulic pumps and up to two-times faster than popular pneumatic-powered pumps.
"We use Enerpac equipment because it's high quality and backed in the field. They have a national and global footprint, so they are always available for spare parts and service," says Chapman.
Load testing on eyebolts and other anchor points is an essential component of compliance with industry authorities and helps optimise the safety of the entire project.
"Eyebolts are often the only physical link a worker has between himself and the structure, so if one fails it could lead to injury or loss of life. This is one of the reasons load testing is required for compliance. Being able to do this on-site saves time and cost for our customers," says Chapman.
Designed to provide optimal safety to operators, the XC-Series offers several safety features, including zero trip hazards through cordless design, overload protection circuitry from excessive amp draw or temperatures and a trigger lock-off mechanism to protect against unintended operation during transport.
Engineered as a long-lasting pump that can be used in hard-to-access areas, XC-Series cordless pumps are constructed from lightweight materials, equipped with a powerful, 0.5hp motor and feature 28V Li-ion battery technology.
With a bladder reservoir, Enerpac's cordless pumps eliminate the need for venting and offer leak-free operation in any orientation. Plus, the overall body, handle and trigger have been ergonomically engineered to maximise ease-of-use and portability.
XC-Series cordless pumps deliver oil flow of 2.05L/min at its low-pressure setting and 0.25L/min when operating at full pressure, up to 700bar. Additionally, the lithium-ion technology ensures XC-Series pumps provide end users with the battery runtime necessary to accommodate demanding application requirements.
Enerpac
02 8717 7200
www.enerpac.com