Published 24-01-2019
| Article appears in February 2019 Issue
CORDLESS PUMP POWERS HYDRAULIC TORQUE WRENCHES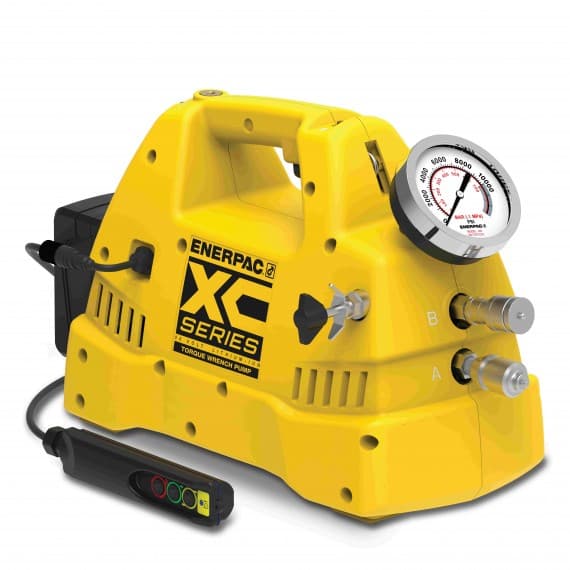 Enerpac has developed a novel cordless electric torque wrench pump that will bring speedy and precise hydraulic bolting and fastening technologies to remote sites and any application where a cord could cause a trip hazard.
The 28V lithium ion technology XC-Series pump is ideal for demanding applications such as industrial, construction, transport maintenance and engineering sites and workshops, mining and power generation industries and oil and gas pipeline, processing and fabrication locations.
The XC-Series pump has an interactive pendant that can be operated in manual or auto-cycle mode. The pendant allows the operator to store a set operating pressure.
The pump has an easily accessible user-adjustable relief valve for precise pressure control along with a bladder reservoir that allows the pump to be used in any position.
The interactive pendant provides visual feedback with LED indicators and vibrates when tasks are completed. The pump has an integrated handle and a carrying strap for portability. It comes with two 28V/5Ah batteries and a quick, one-hour charger.
"Enerpac designed this product with a high-strength fiberglass-reinforced composite housing to be able to provide superior durability in the demanding job site environments that our customers are typically working in," says Enerpac National Sales Manager Darryl Lange.
"The XC-Series cordless torque wrench pump is ideal when you need the lightweight portability of a battery pump with the precision and power supplied by Enerpac hydraulics."
Enerpac
02 8717 7200
www.enerpac.com.au