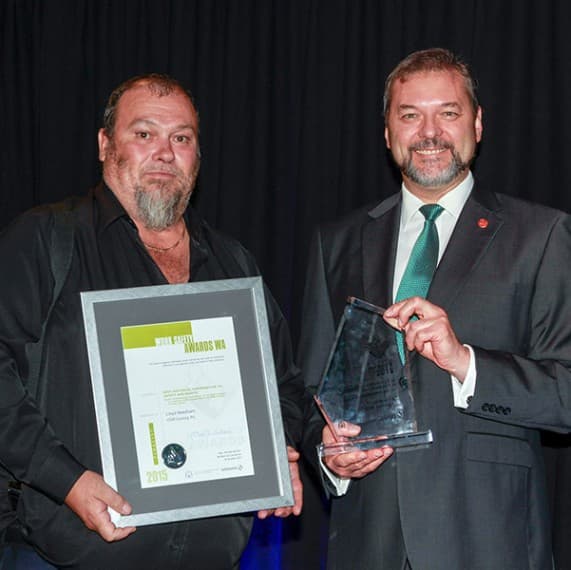 COR Cooling, leading national cooling and heat exchange solutions provider, is proud to announce the receipt of a prestigious safety award by one of its team members.
Lloyd Needham, manager of COR Cooling's Kalgoorlie Branch, has been recognised by the Western Australian Government's Department of Commerce in the 2015 Work Safety Awards. These awards recognise outstanding occupational safety and health management, solutions and innovation in the workplace that reduce the risk of work-related injury and disease.
Presented by The Hon Michael Mischin, MLC, Minister for Commerce and Attorney General of WA, Lloyd Needham received the award for the best individual contribution to safety and health by an OSH Manager or person with formal OSH responsibilities.
COR Cooling CEO Warren Arthur said, "We congratulate Lloyd and his team in Kalgoorlie on winning this award. Having one of our managers formally recognised for their commitment and contribution to safety is very satisfying and confirms we are doing things well and that we are on the right track."
"We at COR Cooling are all very proud of this award. It recognises that COR Cooling, its management and staff are committed to a safer workplace and that we understand the level of leadership that is required in order to achieve our goals of Zero Harm in the workplace", Mr Arthur said.
COR Cooling's Kalgoorlie branch has recently reached a major milestone of seven years without a lost time injury. In addition, COR Cooling has recently reached 1000 days Lost Time Injury (LTI) free across its entire Australian operations in all locations.

COR Cooling is a national service provider and manufacturer of industrial cooling and heat transfer equipment, working closely with some of the world's largest companies in the mining, marine and transport sectors.