COOLTECH MAGNETIC REFRIGERATION SYSTEMS COMMERCIALLY AVAILABLE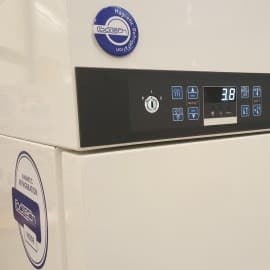 MRS integrated into a Medical refrigerator (Photo: Business Wire)
Cooltech Applications, the worlds leading magnetic refrigeration company has announced the availability of its magnetic refrigeration system.
The system is able to utilize a water coolant instead of the traditional gas, reducing carbon emissions and decreasing energy consumption.
The magnetic refrigeration system used between 200W and 700W, and is optimized for a wide range of products including, medical refrigerators, display cabinets, beverage dispensers, store plugins, and wine cellars, a market that is worth over $20b a year.

"The MRS200 was successfully demonstrated last year at the Medica tradeshow in one of our medical refrigerating equipment," said Jochen Kopitzke, CEO of Kirsch International a medical equipment manufacturer.
"We are looking forward to replacing compressor-based units in the near future and expect a very positive market reaction to this major innovation."
The magnetic refrigeration system is able to eliminate the harmful gases that are used in compression-based refrigerators. The magnetic unit operates at low pressure with low rotational speed virtually eliminating vibrations, cutting noise to less than 35 decibels (db), and reducing maintenance costs. The whole system enjoys a quasi-indefinite lifespan.
"We are delighted to be the pioneers of a true green commercial magnetic refrigeration system," said Christian Muller, CEO of Cooltech.
"This is the first highly energy efficient commercial solution to be available on the market in the magnetic cooling sector, providing a first-to-market advantage for our customers."
Cooltech Applications
+33-(0)-3-88-10-47-90