Published 18-02-2021
| Article appears in February 2021 Issue
Cool off with Seifert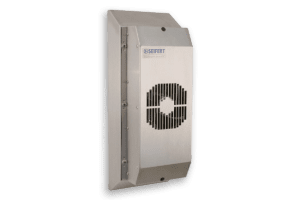 Not all air conditioning units are built equally.
Seifert Peltier units offer an alternative cooling option where conventional compressor/condenser systems are inappropriate.
Thermoelectric elements create a temperature differential between ambient and internal heat sinks. This encourages an internal cool air circuit while fans help transfer convective heat to the atmosphere.
Seifert Peltier cooling units' capacities range from 30W up to 800W and are available in Stainless Steel 304 or 316.
They are an ideal cooling solution for harsh environments especially where maintenance is limited.
They are resistant to extreme ambient conditions and operate well in dusty, oily environments where temperatures can vary from -20 degrees Celsius to +65C. These units are available in 12V, 24V and 48VDC and 120-240V AC.
The external fans on these units are rated to IP68. However, the units as a whole are rated to IP66 and are suitable for indoor and outdoor applications.
Seifert Systems air condition, ventilate, dehumidify and heat control cabinets and enclosures for businesses in the telecommunications, defence, medical, traffic management, food, pharmaceutical and mining industries.
Their design and manufacturing philosophy is underpinned by the international ISO9001 quality and ISO14001 environmental standards.
Multiple Peltier units can be installed in side mount orientation, however top mounting is to be avoided as this can promote condensation. These units are offered in either a recess format or with an external duct-fitted.
The recess version means part of the Peltier will penetrate into the enclosure to be cooled, so use this option when there's minimal equipment to be cooled.
Equally, use the duct to keep the Peltier external to the enclosure, assuming the enclosure is crowded with equipment.