COOL PACKAGING SOLUTION FOR PHARMA INDUSTRY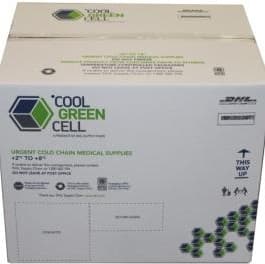 Nearly two years ago global logistics company DHL launched in Australia a world first environmentally friendly re-usable temperature controlled packaging solution for the pharmaceutical and medical sector.
The Cool Green Cell is ideal for shipments that must be kept between +2°C and +8°C throughout the delivery cycle.
Made of high quality polyurethane, the Cool Green Cell, is designed to help customers reduce supply chain costs and save time that would normally be dedicated to waste management.
To date, about 75,000 deliveries have been made using the new packaging – with a near perfect strike rate.
"We have only had two temperature variations out of 75,000 deliveries – and that was due to human error," says Saul Resnick, vice president life sciences and healthcare, DHL Supply Chain.
"The launch of The Cool Green Cell in Australia signifies the start of a new chapter for cold chain deliveries in this country."
The packaging includes embedded radio frequency identification (RFID) technology to enable complete tracking of deliveries from warehouse to destination.
Mr Resnick said the new product was developed in response to the pharmaceutical and heathcare industry's need to reduce costs and at the same time use a product that was more environmentally friendly than conventional polystyrene packaging.
"And with high value pharmaceuticals, there is a greater level of compliance required than ever before, Mr Resnick said.
"We are delivering products for the health of our nation, so clearly this is a critical point."
The packaging can be used on road and air freight.
In summer, the packaging can maintain an ideal temperature range for a period of up to 70 hours and more than 100 hours in winter.
The green and white coloured Cool Green Cell packaging is distinctive from DHL's traditional red and yellow livery.
The packaging can be used multiple times, resulting in significant savings for pharmaceutical companies.
The Cool Green Cell is available in four different sizes:
·         A1- L 36cm x W 36cm x H 47cm
·         A2 – L 48cm x W 39cm x H 47cm
·         A3 – L 52cm x W 53cm x H 57cm
·         A4 - L 68cm x W 53cm x H 57cm
Mr Resnick says DHL hopes to introduce the Cool Green Cell to the Asia-Pacific region in coming months.