COOL HEAD PROTECTION FROM HARDHEAD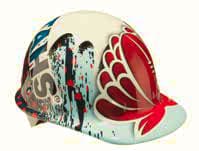 Hardhead specializes in customised corporate branded hardhats.
Hardhats and helmets from Hardhead not only provide the ultimate in protection, they are ultra cool to wear.
Covered in iconic team branding, tough Hardhead equipment offers highvisibility and serious head protection.
High-performance Hardhead helmets are made to strict AUS/NZ safety standards. They feature a fully adjustable ratchet headband for custom fit.
Other features include:
• Injection-moulded fibreglass compound for exceptional impact and crack resistance
• Eight times stronger than common high density polyethylene hardhats
• Smooth crown design deflects falling objects
• Suspension harness balances weight and disperses impact energy across 8 load bearing points
• High-tech digital wrap for superior graphic quality and durability
• 360° hi-vis graphics Non-slip/non-strip fully adjustable ratchet headband for personal fit
• Fitted with removable sweatband for added comfort, easy cleaning and replacement
Hardhead Multi-Sports Helmets wrapped in custom-designed team branding with awesome 3D graphics, provide "cool" protection.
They are available in M-L and L-XL sizes. Features include ABS injection-moulding for exceptional impact and crack resistance and advanced EPS shock absorbing liners.