CONVERT YOUR WASTE ENERGY TO USEABLE ELECTRICAL POWER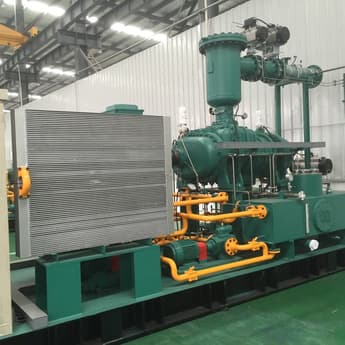 $2b international investment brings serious energy advances to Australian industry.
With the global attention on renewable energy, intensive and high emission industries are looking to eliminate outdated industrial practices and to upgrade to new energy saving technologies.
In recognition of the energy resources that compressors consume, the Global Kaishan Group is investing USD$2b in renewable energy products that will produce completely clean, free base load electricity with a target to more than offset its compressed air division over the next two years. 
As one of the World's most innovative and largest compressed air equipment designers and manufacturers, Kaishan Group realistically aims to emerge as one of the world's greenest global companies.
As a consequence of continued large-scale advocacy for cleaner energy generation, companies are beginning to see the value in not only alternative sources of energy generation, but energy regeneration.
To this end, Southern Cross Compressors has extended its range to produce custom designed and built Screw Expander Power Plants, each one tailored to the needs of that specific installation.
These gas, steam and ORC screw expanders convert otherwise wasted energy into usable electricity that can be easily harnessed directly for production purposes or returned to the grid for energy cost reduction.   
As the Australian arm of the Global Kaishan Group, Southern Cross is committed to utilizing these power plants to offer a broad range of power regeneration options for Australian industry. 
Kaishan Group currently manufactures air compressors which add around 1500MW of electricity demand onto the global energy grid each year.   That's equivalent to adding a large power station every year to the world's energy demand.
Applications such as geothermal, diesel engine heat discharge, gas pipelines, furnace applications and waste steam are ideal applications for expanders.
At current energy costs the capital expense of installing an expander will typically be recovered in around 12 to 18 months (subject to conditions) making them an excellent investment. Kaishan has successfully installed a high number of operating systems in many countries including the USA, Indonesia, China and Canada.
One graphic example use of a Kaishan Rotary Screw Expander is to supply the complete source of power for the Chena Hot Springs resort in Fairbanks Alaska.  Chana developed a business partnership with Kaishan to create a 300kW generator utilising rotary screw expansion and synchronous generation to turn excess geometric (hot water) heat into the primary power source. 
The Organic Rankine Cycle screw expander technology uses organic actuating medium to absorb low grade heat (over 80oC) to drive the rotary screws. The expander requires no other fuel source to generate clean, non-polluting electrical energy.
The mechanism for this power generation is simple; the evaporator absorbs heat from the output medium. The medium then enters the expander to turn the rotors, producing shaft power dependent on temperature and pressure reduction. 
Once the medium vapour exits from the expander it enters a vessel to separate oil from vapour. The vapour is converted into liquid form after going through a condenser and then pumped back into the evaporator to complete the cycle.
Heat energy (or calorific value) is extracted from the heat source, converted into pressure then mechanical power and ultimately into electricity.
With manufacturing plants located in multiple countries producing high quality compressed air and gas products that meet virtually any application, Kaishan Group is in a unique position to address the manufacture and distribution of these energy saving products on a global scale.
In another example, Southern Cross has provided case study data for the energy savings from a Waste Steam ORC expander installation in a coal-powered plant.
The plant's turbine generates 200kW of electrical power through steam heated by coal fires. This steam was previously exhausted directly into the air at a flow rate of 2 tonnes per hour; potential energy generation that was completely wasted.
Once the ORC expander was installed, it began to generate 100kW's of power from the waste steam. Taking only 7kW from that output to stay operational, it is able to produce 93kW year-round, saving 744,000kW of power every year.
Those savings are equivalent to 260 tonnes of coal, or 617 tonnes of Co2.
In any plant or application with hot water or other liquids that stay above 80oC, with saturated, low, or high pressure steam, an ORC expander could be used to regenerate lost power.
Regulated test analysis has clearly shown that the Kaishan ORC screw expander isentropic efficiency reaches 85% with even higher capacity potential.