CONVENIENCE AND SAVINGS WITH AIRCON SMARTPHONE REMOTE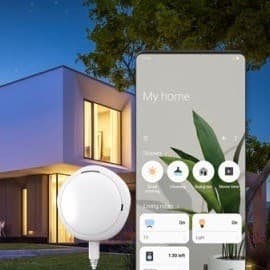 Zen Ecosystems, which provides intelligent energy management solutions for businesses and consumers, has launched Zen Air, a new product designed to make air conditioners more energy efficient with less hassle by remotely controlling and scheduling split air conditioners. It has been has integrated into Samsung's SmartThings device portfolio.
In Australia, running an air conditioner one degree warmer than normal can cut cooling costs by about 10 per cent. Meanwhile, 24 per cent of Australians report keeping their air conditioning running when they are out. These energy-use reduction opportunities not only support individual lifestyles but also target an area of improvement with large-scale implications. Global energy demand from air conditioners is expected to triple by 2050.
"Zen Air is part of our mission to use smart technology for a more connected home experience in regions that don't typically use smart thermostats," Zen Ecosystems CEO James McPhail says. "A simple update to existing air conditioning equipment adds a new level of intelligence and a deeper level of comfort at home. More meaningful devices help us improve our everyday lives and reduce unnecessary energy waste in a simple way."
Designed for split air conditioning systems, Zen Air turns a compatible smartphone into an air conditioner remote control with additional capabilities. Users can program intelligent energy efficiency commands and tailor it to their individual lifestyles, including setting heating and cooling schedules, precooling rooms before times of predicted heat and turning air conditioners on and off from anywhere with internet access.
"Samsung is committed to working with our partners to integrate a wide range of connected products and services that can deliver tangible benefits to the everyday lives of our customers," Eric Chou, Samsung Electronics Australia Director of Product and Services, IT and Mobile, says. "Integrating SmartThings with Zen Ecosystem products builds on our ongoing program to evolve and enhance the connected experiences that we offer in Australia."
Zen Ecosystems
1300 144 719
zenecosystems.com/au/