CONTROL LOGIC UNVEILS NEW COMPACT GIGABIT ETHERNET SWITCHES
23-04-2016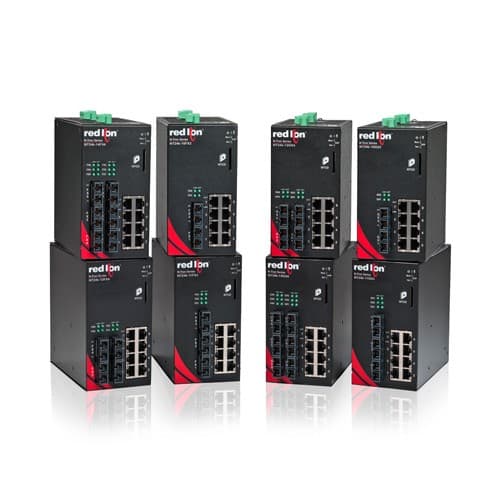 Control Logic has added 18 new compact models to its Red Lion NT24k® managed Gigabit Ethernet industrial switch platform.
The new NT24k 10 to 14 port DIN-rail mountable switches feature Fast Ethernet, Gigabit or dual-mode fibre ports alongside eight Gigabit copper ports with optional IEEE 802.3af/at Power over Ethernet Plus (PoE+) support.
Available with optional PoE+ support, each switch accepts redundant 22-49 VDC power input and offers a step-up power boost circuit to eliminate the need for a standalone 48 VDC power supply.
In addition, Red Lion's new PoE+ switches provide up to 240 Watts PoE output power to reliably support applications such as security cameras, panel displays and wireless access points.
With a hardened metal housing, each NT24k switch provides industry-leading shock (200 g) and vibration (50 g) tolerance coupled with up to a -40° to 85°C operating temperature range to ensure optimal network performance in the harshest industrial environments.
They also offer a full set of management features and advanced security to ease network deployment with key functionality that includes Jumbo Frame support, SD card and XML configuration backup and restore, auto-IGMP configuration, Ethernet/IP™ with CIP™ messaging, ring technology with ultra-fast 30ms recovery, event logging, SNTP and IEEE 802.1x with RADIUS remote server authentication.
With over 100 mixed-media configuration options, the rugged NT24k platform combines the benefits of noise-immune fibre with the versatility of 10, 100, 1000Base copper connectivity to provide a robust migration path across varying industrial applications.
Control Logic
Ph: 1800 557 705