Control Logic's PULS PISA-B protection module – versatile and compact electronic circuit breakers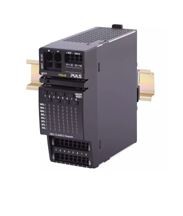 Control Logic is now offering the PULS PISA-B Electronic protection module. The new generation module is highly compact, with eight separated and individually adjustable channels. It delivers protection you can bank on for load circuits with different demands in 24V systems.
A range of control features are included, such as remote monitoring of channel states by individual signalling contacts, or resetting all channels that tripped at once from a remote location.
It is easier than ever to diagnose issues in the field. The channel status is readily visible, while each channel's utilisation can be ascertained without a current probe, due to a LED matrix. Wiring is easy with push-in terminals.
Each channel's tripping currents can be configured individually using push buttons.