CONSUMERS CAN HAVE THEIR SAY ON COUNTRY OF ORIGIN FOOD LABELLING
09-06-2015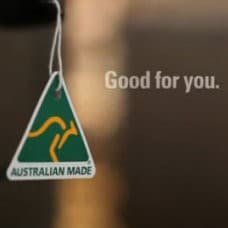 Australians now have the opportunity to have their say on what they want in clearer country of origin food labelling following the launch of a new online survey.
The feedback from consumers will help design the Australian Government's new labelling system.
The government has been consulting with industry – including growers, processors and retailers – to implement a clearer, more direct system for food labelling to give consumers the information they want in a way that is easy to read and understand.
"We have completed a two month industry consultation process, and we are now asking for consumer feedback from the very shoppers who will be in the supermarket making use of the new labels," said Minister for Industry and Science Ian Macfarlane.
"Consumers have told us loud and clear that they want more useful food labelling, and now we want to hear from them about which options they prefer.
"Based on our consultation sessions in major capital and regional cities, we have valuable industry information on how we can implement a system that is fair and transparent for consumers without adding extra costs to business."
Minister Macfarlane said the community survey and the Government's market research data are crucial in defining the new framework, and this is the next step in finding a balance for industry and the consumer.
Minister for Agriculture Barnaby Joyce said the work to improve country of origin food labelling was to make sure Australians had clear and concise information about the food they buy.
"Many consumers and food producers feel strongly about the need for clearer country of origin labelling," Mr Joyce said.
"It's important that people can make informed choices about the food they buy at their local supermarket. We want Australians to have confidence in knowing where their food is coming from."
A variation of the iconic green-and-gold kangaroo logo is one of six graphics consumers are being asked to choose from to act as the new mandatory country-of-origin symbol for all Australian food products.
The Australian Made Campaign, the not-for-profit organisation that administers and promotes the kangaroo logo, is calling on consumers to "Remember the Roo" and back the symbol that has been backing Aussie industry and Aussie jobs for the past three decades.
"We have been lobbying for clarity and consistency in food labelling for years now, and worked with the Government on the current proposal," Australian Made Campaign Chief Executive, Ian Harrison, said.
"We strongly support action on food labelling and welcome the opportunity for consumers to have their say on the best system moving forward.
"There are three decades of understanding behind the Australian Made, Australian Grown logo, which is recognised by 98% of Australians, and trusted by 88% to identify genuine Aussie products and produce – we hope consumers will remember the roo and take a common-sense approach to voting."
Mr Harrison said the rules for using the Australian Made, Australian Grown logo on food products are currently more stringent than the rules for making country-of-origin claims under Australian Consumer Law.
The Australian Made Campaign has been lobbying for that gap to be closed, and an education program to be rolled out to help increase understanding of country-of-origin claims and the value proposition of buying Australian-made and Australian-grown products.
The country of origin food labelling community survey is available at www.industry.gov.au/cool and hard copies can be requested by calling 13 28 46.