Construction still in the doldrums
31-08-2010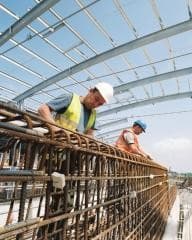 The national construction sector made a slight gain in March, but continues struggle, according to the latest industry data. The sector has now been in the red for almost two straight years.
The latest Australian Industry Group Australian Performance of Construction Index (Australian PCI) in conjunction with the Housing Industry Association, was up just 0.6 points to 36.2 in March (readings below 50 indicate a contraction in activity with the distance from 50 indicative of the strength of the decrease).
Poor demand and subdued conditions, particularly in the residential and commercial construction sub-sectors, continued in the month with house building falling to its lowest level in six months. 
Reduced workloads saw employment levels remain in negative territory and the new orders sub-index has now been contracting for 22 months.
Australian Industry Group Director Public Policy, Peter Burn, said: "Large parts of the national construction industry remained stuck in the doldrums. Very weak conditions continue in the house and apartment building and commercial construction sectors and this is flowing on to a cross-section of service and manufacturing businesses.  Engineering construction also softened during March but from a much more robust base than the rest of the industry. The further fall in new orders points to a continuation of flat conditions over the coming months," Dr Burn said.
Housing Industry Association Chief Economist, Harley Dale, said: "There is an unequivocal deterioration underway in the non-resource domestic economy in 2012. As a bell-weather industry, residential construction is clearly highlighting this fact with the rate of decline in the detached house and apartment sub-indices of the Australian PCI accelerating in March. Furthermore, new orders for house building fell in March to their lowest level in six months. It was time to act some time ago, but nothing has happened. A 50 basis point cut in interest rates is required in May, while Federal and state governments need to get on with the job of boosting new housing supply," Mr Dale said.