CONSTRUCTION AWARD RECOGNISES SUSTAINABLE GALVANISING PROCESS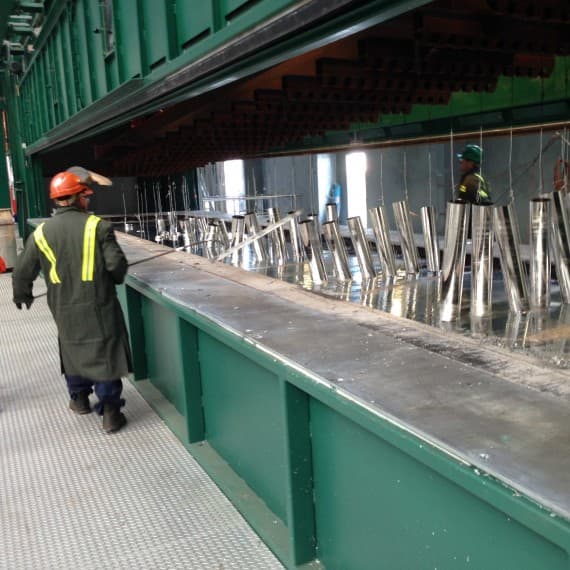 The technical innovation and sustainability of its new hot-dip galvanising facility at Somerton, Victoria, has led to Kingfield Galvanizing winning the Process Innovation Award at the 2018 Australian Construction Awards.
The new plant is reckoned to set a new benchmark for the hot-dip galvanising industry, incorporating new technologies to lower emissions, improve workplace safety, improve the working environment and increase recycling to minimise waste.
In the words of the judging panel: "This award focuses on how companies have developed working methods to show greater efficiency or have seen a substantial improvement in profits as a result of new processes. The award celebrates excellence in innovation and great levels of improvement in the organisation's process delivery.
"The winner has demonstrated their ability to increase efficiency by reducing large amounts of materials wastage and exposure to volatile gases. They have increased levels of energy efficiency through utilising plant heat to aid pre-manufacturing processes as well as its automation systems that are capable of moving hazardous and volatile vapours in an enclosed plant."
The green credentials of the Somerton plant were also recognised in the 2107 Victorian Premier's Sustainability Awards.
"We are still basking in the delight of winning the Premier's Sustainability Award 2017, and this accolade for Process Innovation awarded by a panel of our industry peers is amazing," said Kingfield Galvanizing Chair Steve Lelli.
The acknowledgement of our investment and support for our belief that industry can be environmentally responsible and commercially viable is fantastic. We have a long way to go, but we are committed to further investment that supports our sustainability focus," he concluded.
Kingfield Galvanizing
03 9305 3902
www.kingfield.com.au