Conquest opens new training centre
19-08-2013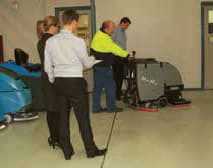 Conquest, a leading supplier of industrial cleaning equipment, has opened a new Product Training and Development Centre in Melbourne.
The new centre will cater for clients looking to learn and experience the most advanced cleaning techniques and the latest developments in equipment.
The opening of the new centre coincides with the company's 40th anniversary in developing floor cleaning solutions for its clients.
The new centre will host functions, specialised trade days and one-on-one customer sessions and product training.
This will help to educate, train and inform clients of the latest and most efficient cleaning practices available on the world market.
Presentations from world leading manufacturers and international industry experts have already been planned.
Founded in 1973 as a service provider to Australian industry, it has now grown to be a highly recognized supplier of innovative and reliable cleaning equipment.
The company has been built a solid reputation for efficiency and reliability, as reflected in its motto: Clean Floors Guaranteed.
Conquest supports and services more than 2000 customers Australia wide.
Conquest Equipment Technologies Pty Ltd
Ph: 1800 826789