Conquest guarantees a total clean
09-07-2014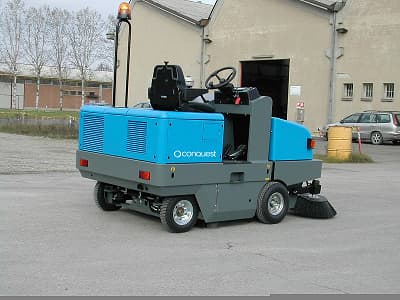 Over the past 40 years Conquest has grown into one of Australia's leading suppliers of industrial and commercial cleaning equipment.
Established in 1973 as an electrical service centre, Conquest has gained a reputation for premium quality support. This, they believe, has been the key to the company's success. 
Conquest want to ensure customers get what they need – clean floors.
To reinforce this Conquest now offers a 100 percent satisfaction guarantee – if a machine does not do what is claimed – they will replace it or give you a refund.  
Conquest offers one of Australia's largest range of industrial floor cleaning equipment.
This means they can fulfil the demands of all industry sectors. 
Exclusive distribution arrangements with some of the world's leading manufacturers means Conquest can supply floor sweepers and scrubbers for every application and budget.
And when it comes to innovation, Conquest leads the way.
Some unique concepts that they have brought to the Australian market include four-wheel warehouse and yard sweepers, rectangle oscillating head scrubbing machines and now the world's first battery powered street sweeper.
The Ecosweep 360 has recently been included in the Conquest range. This unique sweeper is emission free, quiet and most importantly, has very low operating costs. 
The Ecosweep 360 is ideal for outdoor and indoor applications.
Having such a large range of options to choose from has lead Conquest to develop the ISP (Intelligent Solutions Program). This is a 10-step process that allows Conquest representatives to select the best floor cleaning solution for any application. 
Conquest are so confident in ISP it is fully backed with their 100 percent Satisfaction Guarantee.
Conquest Equipment Technologies Pty Ltd
Ph: 1800 826 789
Please see bellow for website