Published 24-08-2021
| Article appears in August 2021 Issue
Conquest Floor us with their Outstanding Service and Products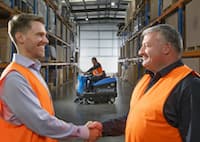 This industrial and commercial cleaning company certainly impresses.
Nobody notices a clean floor. But everybody will notice a dirty one. There's no doubt that first impressions count. Those initial split-second decisions say a lot about an organisation, and the way a facility is run.
At Conquest, floor cleaning is somewhat an obsession. In fact, industrial and commercial floor cleaning equipment is all they do, so they believe they really know their stuff. 
Identifying a distinct gap in the market, Conquest was born out of the belief that high quality and reliable industrial cleaning equipment should be backed by equally exceptional service and support.
With over 40 years of experience in the industry, Conquest pride themselves on the commitment to keeping your industrial floors clean, so that you can remain in control and focused on what's important to you - efficiency, productivity and safety.
Conquest source their innovative range of industrial floor cleaning equipment from leading global manufacturing partners, who they trust to produce high-quality and reliable equipment.
They pride themselves on their expertise in recommending the right equipment for their customers unique situation by assessing the floor space, business needs and cleaning challenges.
Conquest go to such great lengths to ensure their recommendations are the right fit for their customers, they have developed an entire program dedicated to it; their 8-step Intelligent Solutions Program (ISP). It is through this program that Conquest guarantees your floor cleaning solution will fit like a glove. 
Backing their equipment recommendations with a 100% satisfaction guarantee ensures you'll never have to experience the frustration of inadequate equipment, machine failure or downtime again. This is captured by their Conquest 360 degree promises, that include:
• 60-day money back guarantee
• Flexible rental offers with no-fee cancellations
• 4-year parts and labour warranty
• Zero Downtime Program
With the recent increased popularity of QR codes, Conquest have gone one step further in their promise to be behind you all the way.
By using a smart phone to scan the QR code located near the controls of each new machine, the operator is taken to an easy-to-use, web-based interface where they can navigate to the available support resources for that model. 
Conquest QR has been developed in response to feedback from customers who value speed and efficiency, and the recognition that information has not always been readily available to operators when they need it most. For example requests for replacement operator manuals has been identified as a commonly asked question. Conquest QR solves this problem, making the manuals readily available from the Conquest QR interface, offering the option to download or view the relevant manual and daily maintenance chart. 
Staff turnover is another commonly cited challenge, whereby new operators need training to use the equipment, safely and effectively. Conquest National Operations Manager, Tim Wakefield says "Often an operator might not receive sufficient training and handover – Conquest QR features training videos, demonstrating how to use and maintain the equipment. This information is all readily available, whenever it might be needed."
It's Conquest ambition to be behind their customers all the way, and Conquest QR is another step towards their vision. Tim explains, "We've got the resources available together in one place, right at the fingertips of operators when they are using the equipment."
Partnering with Conquest assures that your first impression will be the right impression. Book a free site assessment to receive a tailored recommendation from one of Conquest's cleaning solutions experts.