Conquest cleans up with new all-in-one model
31-08-2010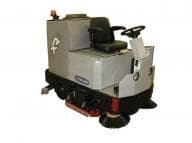 Conquest's XR and GTX cylindrical ride on scrubber/sweepers are the ideal answer to cleaning large factories, warehouses, manufacturing plants and yards.
The Conquest cylindrical scrubbers have earned a reputation for reliability and feature a 10-year tank warranty and 3-year machine warranty.  
With rugged actuator scrub head arms and oversize components the Conquest scrubbers are designed to take on the toughest of cleaning tasks.
The cylindrical XR and GTX machines pre-sweep the floor and scrub all in the one pass, reducing cleaning time and effort by eliminating the need to sweep your floor before you scrub. The machines also feature a built-in pressure cleaner and hand vacuum wand for cleaning into corners and under pallet racking.
Conquest not only provides reliable equipment but also first class back-up service, with fully trained technicians and onsite service plans.
Conquest Equipment Technologies
Ph: 1800 826 789