CONDITION MONITORING TO RAISE THE BAR IN CRANES AND LIFTING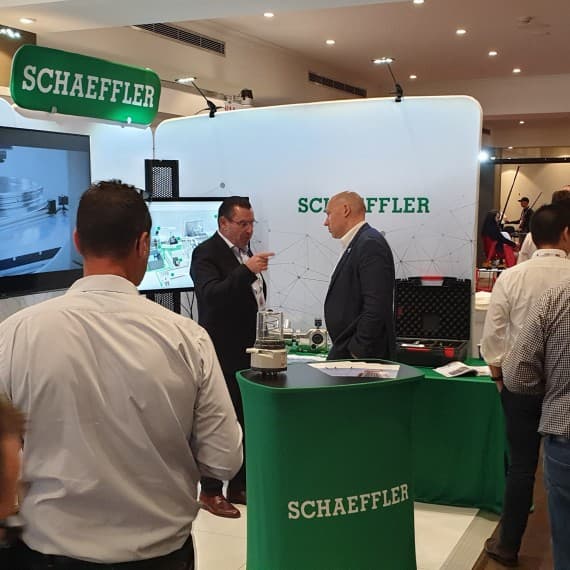 Schaeffler has outlined the future of digital technologies for the cranes and lifting industry at the recent Crane Industry Council of Australia (CICA) Conference in the NSW Hunter Valley.
Schaeffler's CICA stand featured an interactive touchscreen display, where crane industry professionals could look in-depth at the latest digitalisation technologies, and how they can provide tangible benefits to the cranes and lifting industry.
The touchscreen walked users through condition monitoring and other digital technologies for bearings, gearboxes, motors, drives, fans, and other core components used in cranes and lifting devices.
Schaeffler's digitalisation technologies include its Industry 4.0 solutions, incorporating hardware such as SmartCheck, Smart QB and automatic lubricators, which use vibration analysis to detect the early warning signs of irregularities in motors, gearboxes, rotating equipment and their rolling bearings, so that appropriate actions can be taken prior to a fault or failure.
Schaeffler promotes its condition-monitoring technologies as an investment. While there are upfront costs involved, these costs are dwarfed by the costs involved if something breaks down, including repair or replacement, lost production and downtime.
Industry 4.0 has become one of the most popular buzzwords of industry, but the perception is often that its benefits are too conceptual or theoretical. Schaeffler maintains that its focus is on showcasing the tangible benefits of Industry 4.0 that can lead to cost reductions and efficiency improvements.
Schaeffler Australia
02 8977 1000
www.schaeffler.com.au