| Article appears in October 2019 Issue
CONDITION AND TORQUE MONITORING TO OPTIMISE MACHINERY UPTIME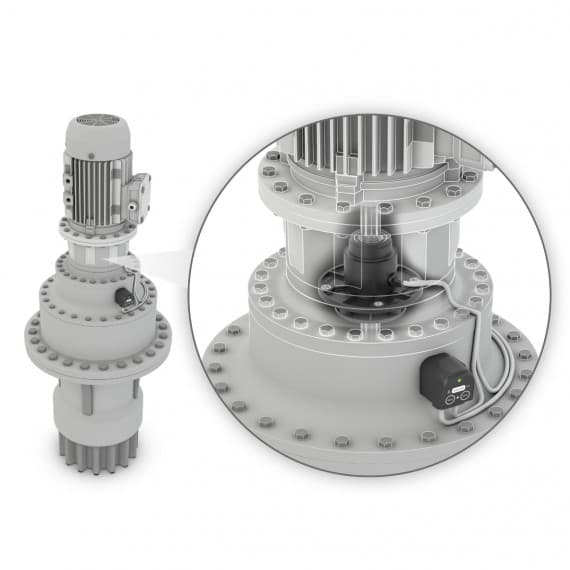 Schaeffler has combined two of its proven measuring technologies to create a novel condition and torque monitoring system particularly suitable for rotary and adjustment drives in the wind power and shipbuilding industries, in large cranes and construction and in mining machinery with turrets and winches.
The combined applcation of Schaeffler's SmartCheck and TorqueSense technologies – both available throughout Australia and New Zealand – was highlighted this year at Hannover Messe, which is the world's leading trade show for industrial technology, attracting typically 6500 exhibitors and 250,000 visitors, with a strong focus on Industry 4.0 technologies.
SmartCheck from Schaeffler Australia is a compact, innovative, modular online measuring system for continuous monitoring of machinery and process parameters on a decentralised basis. It can be used on assemblies where such monitoring was previously too costly.
Schaeffler's TorqueSense torque measurement module offers a mechatronic solution that allows applications and processes to be monitored and controlled with significantly greater precision, as the torque is recorded right where it is applied.
The new combination exhibited at Hannover Messe is one in which a machine's torque signal can be used for both monitoring and for smooth and precise torque control and regulation of pull cables.
The combination system is the product of the long-term development partnership between Schaeffler and Bonfiglioli, which is a global market leader in yaw and pitch drives for wind turbines. This partnership led to the creation of a compact Industry 4.0 solution package, says Schaeffler.
In addition to the vibration diagnosis system of the Schaeffler SmartCheck detecting incipient damage at a very early stage, the new combination can detect and limit peak loads and frequencies using the precise torque signal.
Using algorithms that are based on its extensive application expertise, Bonfiglioli converts such data into information throughout the entire lifetime of a wind turbine, for example. Thus, online reporting on relevant performance indicators is provided, for example including the general "health" status of the geared drives, possible critical conditions, and abnormal behaviour of the yaw systems due to predictive monitoring.
In total, customers benefit from reduced unplanned downtimes as a result of overloading or unexpected operational conditions of the system and load-based (ie generally longer) maintenance intervals.
The Schaeffler SmartCheck device performs frequency-selective condition monitoring of bearings, gearboxes, electric motors, pumps, fans, and machines based on solid-borne vibrations. Conspicuous frequencies can be automatically attributed to damaged components using only one Schaeffler SmartCheck device. A temperature sensor is also integrated into the device.
The torque signal and speed signal of the Schaeffler TorqueSense are sent, preprocessed and supplied to the machine control system and/or maintenance department with the vibration signals that are also analysed via the SmartCheck.
The addition of operating data on torque and speed to the SmartCheck condition monitoring system opens up several new scenarios. In the simplest case, the system allows the monitoring of torque peaks and their frequency and thus an evaluation of the utilisation level and the derivation of load-based maintenance measures. The signals can also be integrated into the operating strategy for drives and initiate torque limitation or shutdown functions.
Schaeffler Australia
02 8977 1000
www.schaeffler.com.au