CONCRETE RESULTS AS BUILDUP CONTROL SYSTEM CLEANS UP ORDERS
12-12-2017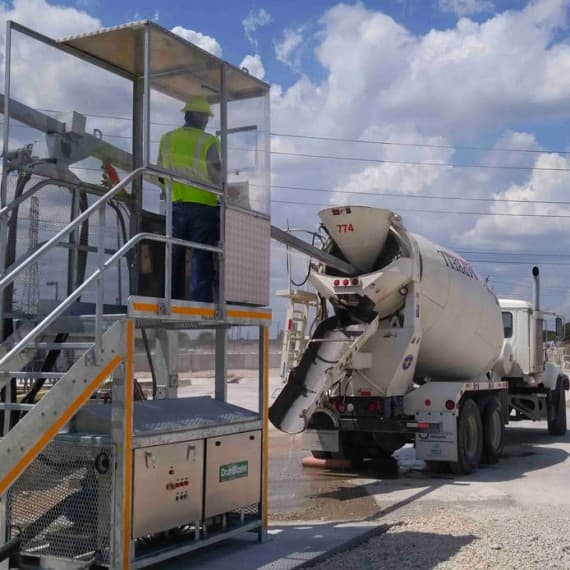 An Australian innovation is starting to garner success at home and abroad, with increasing numbers of export orders for DrumBlaster. The company's innovative buildup control technology system virtually eliminates residual concrete buildup in ready mix truck drums.
"It is gratifying that after five years of developing, enhancing and proving our technology, it is now acknowledged by major concrete groups as the best available globally," says DrumBlaster director Michael O'Neill.
The DrumBlaster system involves a long boom, tipped with a multi-nozzle water jet. This is applied to mixer drums daily to scour concrete build-up from all interior surfaces.
Before DrumBlaster, the industry standard procedure was to partially fill the drum with water and rotate it – a practice that has remained unchanged since the 1930s.
DrumBlaster's first US order is now being shipped to service a fleet of delivery trucks in Louisiana. And the first installation in the UK recently entered service at a new Heidelberg Hanson concrete plant in Leeds.
The company has also appointed a distributor and shipped two systems to Belgium and is also in discussion with concrete groups in Canada, Argentina and South Africa.
Meanwhile, in Australia, the company has just won an order from a major infrastructure provider for four machines that will keep a fleet of 28 underground trucks clean and capable of carrying full loads 24/7. And this comes after supplying a machine to Boral to clean its trucks at the NorthConnex project in Sydney's northern suburbs.
DrumBlaster now has sold or has orders for 12 machines in NSW, six in Victoria, and one each in South Australia and Queensland.
DrumBlaster
0409 554 994
drumblaster.net