Published 14-03-2019
| Article appears in April 2019 Issue
CONCERN GROWS AROUND WELDING SAFETY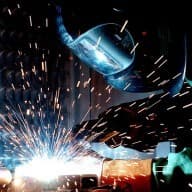 Weld Australia and the Australian Manufacturing Workers' Union will work together to address growing concerns around welding safety.
Weld Australia CEO Geoff Crittenden and AMWU Victorian State Secretary Tony Mavromatis met in February to discuss safety and compliance in the industry. Their discussions focused on Australia's relaxed regulatory and compliance frameworks, which have resulted in a growing lack of adherence to Australian Welding Standards and a substantial increase in the risk of welding-related injury for both workers and members of the public.
"The lack of regulation covering steel manufacturing, fabrication and erection is a national disgrace," Crittenden says.
"There is absolutely no question, lives are at risk. The only way to guarantee public safety is to implement and enforce regulations that mandate compliance to Australian Standards for the manufacture, fabrication and erection of steel within Australia, and the inspection of imported structural and fabricated steel. Weld Australia looks forward to collaborating with the AMWU on this important issue."
Mavromatis is equally as concerned. "We have a range of concerns. Do builders, surveyors, fabricators and engineers understand what is required when it comes to meeting Australian Standards? Does WorkSafe understand Australian Standards? Do welding workers understand what they need to do to meet Australian Standards? Most concerning of all, there are no welding regulations mandated by legislation."
"The AMWU has a lot of members who are welders and boilermakers. They are watching as their trade is degraded. The big concern is that if non-qualified people are welding – whether it's a multi-storey building or a road sign – someone is going to die. Until someone is seriously hurt, the authorities won't pay attention."
"The AMWU and Weld Australia share a common interest here – we will continue to work together to improve welding-related safety, not only for the guys working on-site, but for the wider community."
Together, Weld Australia and the AMWU will work towards eliminating loss of life or injury attributable to welding. They will investigate activities such as establishing and maintaining the framework and infrastructure required to identify and analyse welding risks, and formulate and execute related mitigation strategies.
Weld Australia
02 8748 0100
wtia.com.au/