COMPRESSOR RANGE FILLS THE VOID
14-07-2014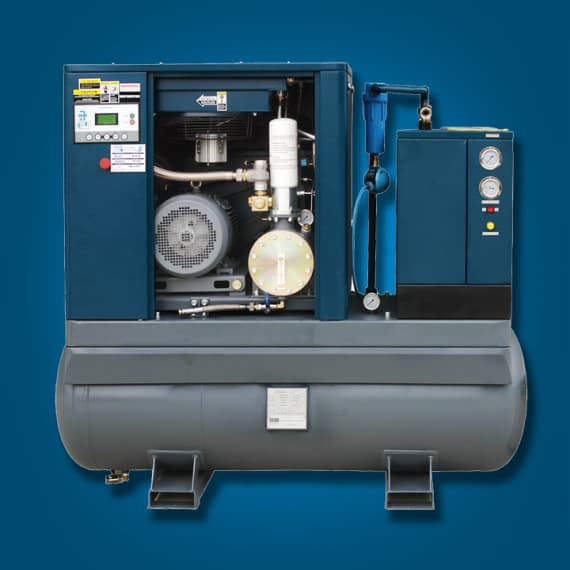 When companies are looking for a compressor to suit their specific applications, it's often the case of over or underspecifying to meet the need.
Making the jump from smaller capacity reciprocating models to the higher capacity rotary screw compressors requiring a separate receiver may be overkill on output and budget.
Southern Cross Compressors has catered to that gap with a new LGX series of compact, receiver mounted, rotary screw compressors from 5.5 to 15kW.
Designed to produce maximum output with outstanding reliability and the lowest possible energy usage, these superbly engineered, self-contained units provide the benefits of the larger capacity KHE range in a high efficiency, low maintenance compressor that won't break the bank.
Manufactured from the highest quality components and utilising the very latest in compressed air generation technology, the Southern Cross LGX range offers capabilities from 0.78 to 2.35m3/min to suit a diverse range of applications.
As with all Southern Cross Compressors, every unit is rigorously tested to perform to stringent quality standards and is fully backed by Southern Cross' comprehensive 5 Star services and warranty.
Some outstanding, built in features include a large, slow revving airend to deliver low noise and minimal vibration, integrated aftercooler and cooling fan, large cyclonic air intake filtration, large 500 litre receivers and an optional integrated dryer and air filter.
The LGX range provides a broader choice to better match the right machine to specific requirements and ensure maximum efficiencies while significantly lowering the cost of compressed air.
Southern Cross Compressors
1300 098 901
www.southerncrossaircompressors.com.au