COMPRESSED AIR PIPE SYSTEMS DESIGNED AND INSTALLED TO ORDER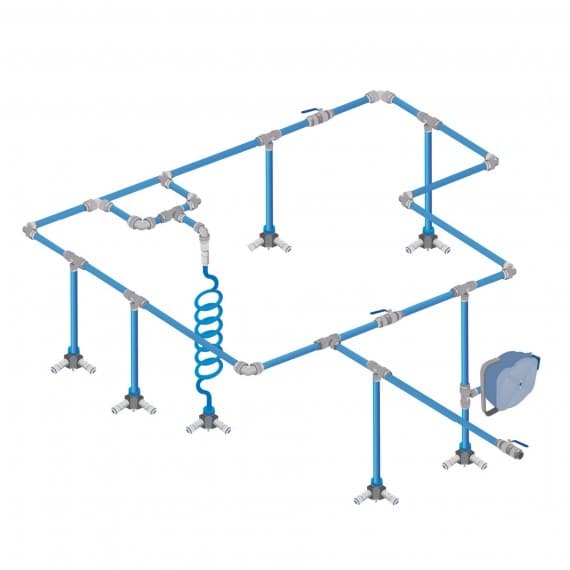 Good compressed air reticulation is the "other half" of an efficient and effective compressed air system. A poorly designed pipe layout can result in pressure losses and contamination, leading to unreliable equipment operation. In addition, the compressor may have to work "overtime" to try to compensate for these conditions, resulting in excessive bills.
Galvanised or black steel pipe systems, although in use in compressed air reticulation systems for many years, can corrode internally and build up an unseen crust of rust inside the pipe. This rust restricts airflow and, if dislodged, can enter a piece of equipment, causing malfunction.
Plastic pipe is more susceptible to expansion and contraction with changes in ambient temperature and even when bracketed correctly tends to sag between brackets leading to collection of water at the low points. Plastic pipe can also become brittle with age and burst under pressure in below freezing conditions.
Where oil-free compressed air is essential, stainless-steel pipe is recommended. Modern press-crimp methods of joining stainless steel are quick and reliable and have reduced the overall cost of stainless-steel systems.
For general industrial compressed air pipework, aluminium is the preferred material. Aluminium combines good structural strength with light weight and high corrosion resistance and its compression fitting joining method makes it quick and easy to install.
Pneutech Group offers a design and installation service for compressed air pipe systems including calculation of optimum pipe sizes, design of optimum layouts and inclusion of all necessary filters, regulators and lubricators depending on the application.
Pneutech Group
1800 763 833
www.pneutechgroup.com.au