COMPRESS YOUR AIR RELIABLY AND EFFICIENTLY
29-08-2017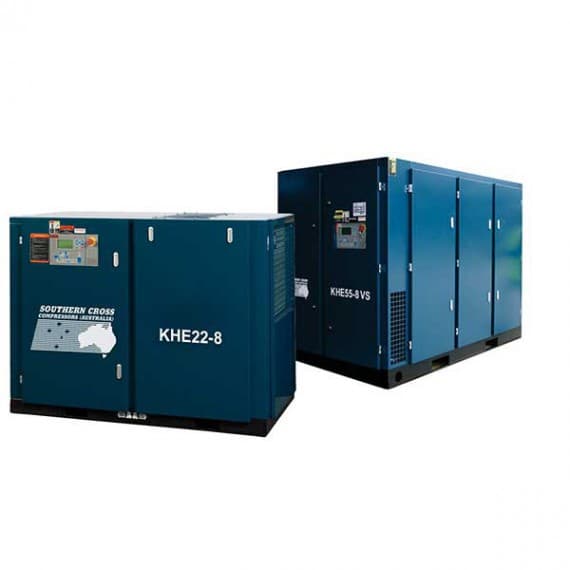 Compressed air is a vital energy source that powers industry across the globe. From small workshops to major production plants, compressed air is widely used as a safe and convenient form of energy, but air comes at a cost and maximising efficiency and reliability is critical.
The Southern Cross KHE series rotary screw compressors are uncompromising in performance with a strict focus on energy efficiency and reliability for maximum output at minimal cost.
This is achieved through innovative engineering, strict production controls and the use of only the highest quality components and manufacturing processes.
Offering a wide range of rotary screw compressors from 4 to 400kW, including single and two stage models with fixed or variable speed control, there is a Southern Cross compressor to match your exact needs.
With a vast experience and expertise in supplying the Australian and international markets, Southern Cross can assess and advise you on the right compressed air system to fit your needs - now and for the future.
With 24/7 product support, extended warranties and a lifetime guarantee on all SKY series rotary screw air-ends, Southern Cross Compressors is a leading Australian supplier of highly efficient rotary screw compressors engineered to the highest quality and global standards.
Southern Cross Compressors is the obvious choice to provide your new or upgraded compressed air system.
Southern Cross
1300 098 901
www.southerncrossaircompressors.com.au