A COMPREHENSIVE DIGITAL DESIGN EXPERIENCE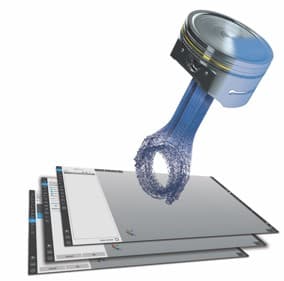 FARO, the world's most trusted source for 3D measurement and imaging solutions for designers, has released FARO RevEng, providing FARO Design ScanArm and FARO 8-Axis FaroArm system users with a powerful tool that enables a comprehensive digital design experience.
RevEng addresses a variety of reverse engineering and design challenges across a range of industries including research and development, industrial machinery, engineering services and computer graphics.
It allows users to seamlessly scan, capture and display point clouds in colour, generate point clouds geometrically and visually accurate relative to the scanned object, convert the point cloud into a high-quality mesh, and edit and optimise the mesh for further design or to make it ready for 3D printing.
Its tools and functionality are tightly integrated to ensure a seamless transfer of project information, dramatically streamlining end-to-end workflows. Intuitive icons on a single worksheet and automatic fixing and repair tools save time and enable a new level of efficiency.
"As a solutions-driven enterprise, FARO is focused on our customers' optimising their investment," says Thorsten Brecht, Senior Director of 3D Design. "FARO RevEng is modeled with this as the core development sensibility. We appreciate that time to market and design flexibility are critical to the success of any design project."
FARO Technologies
+65 6511 1350
www.faro.com