COMPOSITE SLIP JOINTS PROMISE LONG-TERM PROTECTION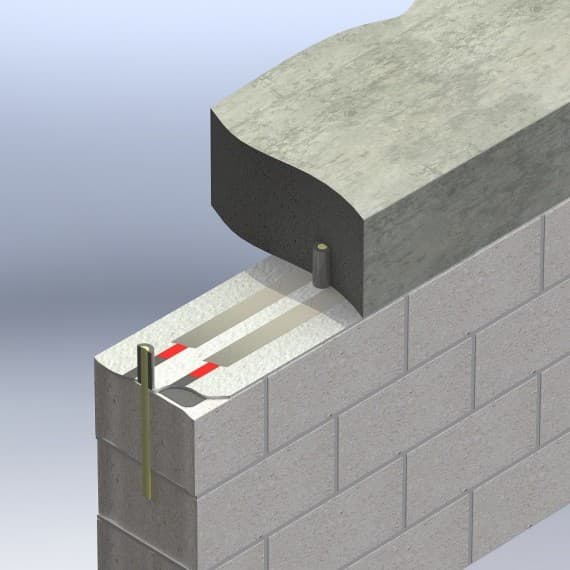 No-maintenance slip joints that combine tough low-friction composite materials with durable metal facings are custom-made by Hercules Engineering to provide long-term protection against cracking and structural disruption in civil, industrial and resources infrastructure and construction projects.
The latest Hercuslip Composite slip joints (HSCs) use a stainless-steel plate (2b finish) and elastomeric pad slip joint structure that typically outlasts standard grease-type slip joints multiple times, providing extended lifespan protection for major infrastructure, industrial and mining projects where no-maintenance durability is vital.
One of the latest applications of custom engineered HSCs involved an underground infrastructure project in which core filled block walls incorporated locating dowels to lock the slab in position and allow for expansion, rotation and shock absorption after the slab is cured.
According to David Booty, Manager, Hercules Engineering (a division of Cut To Size Plastics), "The challenge involved in ensuring the ongoing slip joint protection required for the project was that cutting or drilling stock slip joints to fit around or between the dowels would have compromised their extremely long-life performance, which was one of their major advantages for the job."
"So, in this case the solution was custom-engineering HSC slip joints to fit in continuous strips either side of the locating dowels so it could be used in extended lengths to provide optimum load-bearing capacity and reliability in a restricted space.".
This configuration also obtained the greatest benefit from the ability of the extended slip joint to accommodate small variations in the surfaces of the slab and wall structure, with the 7mm thick slip joint acting to accommodate these variations and spread the load evenly to further contribute to greater reliability and lifespan.
The custom design obviated the need to drill the Grease Slipjoints or to painstakingly and precisely measure the distances between the dowels to use increments of HSC Slipjoints. Using the full length of HSC slip joints on both sides of dowels saves significant amounts of installation time.
Hercules Engineering
02 9681 0400
www.herculesengineering.com.au