Published 15-09-2020
| Article appears in August 2020 Issue
A complete simple machine safety solution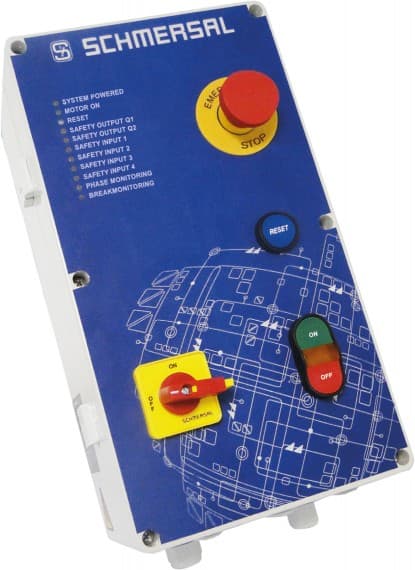 Available now from Control Logic, Schmersal's new BMC Control Box is a compact, complete simple safety solution for single or three-phase machines 
Traditional safety systems simply interrupt the power source and allow the system to "coast" to a stop. The BMC Control Box has an optional monitored DC braking system to significantly decrease the system stop time.
The use of DC injection for the braking function allows for the safety function to be applied immediately with the braking applied at the same time rather than delayed as the case may be with some systems.
Compatible with up to four safety input functions from a diverse range of hardware types (light curtains, magnetic sensors, emergency stops) the BMC Control Box is well suited to small standalone machines. Being highly configurable allows for a common product to be used in multiple machine types.
Meeting the highest safety levels (CAT4/PLe/SIL3), the BMC Control Box with DC braking is perfect for applications where operators are working close to hazards like mixing, drilling and milling machines.
Designed around the TUV Certified SRB-E 204 ST, this comprehensive safety solution simplifies design, reduces installation time and validation costs. With in-built detailed LED feedback and LEXX Diagnostic application, fault-finding is fast and easy with reduces production losses and downtime.
The BMC Control Box is suitable for the highest level of safety application in a simple and compact unit and with the DC braking option, stoppage times will be faster.
Control Logic
1800 557 705