COMPACT OSCILLOSCOPES DELIVER COMPREHENSIVE RANGE OF OPTIONS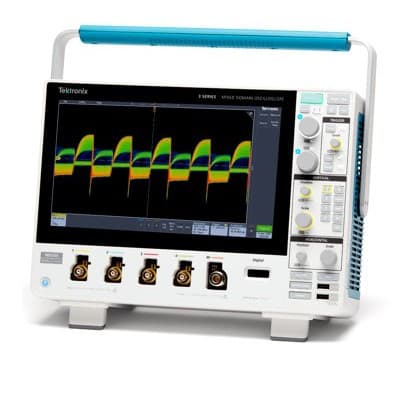 Tektronix has launched the most versatile and easy-to-use oscilloscopes in their class, which are available in Australia and New Zealand through element14. While developing its 3 series mixed-domain oscilloscope and 4 series mixed-series oscilloscope, Tektronix spoke to users to identify the challenges they face, and built products that deliver features and performance to match the needs of everyday engineers. The 3 series MDO and 4 series MSO oscilloscopes are built on the award-winning user experience introduced in the 5 and 6 series MSOs. They are just 15cm deep and feature modern industrial designs, the largest and highest resolution display in their class and a highly intuitive touchscreen user interface incorporating the touch gestures familiar from smartphones and tablets. Typical applications include embedded design and IoT, power design, education, manufacturing testing and troubleshooting, and service installation and maintenance.
The 3 series MDO is designed to be a compact, versatile test instrument. It offers two or four analogue input channels, with 16 digital channels and a 1 or 3 GHz spectrum analyser available as options; bandwidth from 100MHz to 1GHz and sample rates up to 5Gsample/s on analogue channels and up to 8.25Gsample/s on digital channels; and an 11.6in, 1920 x 1080 HD resolution capacitive touch display.
The 4 series MSO is designed to meet a diverse range of application requirements alongside enhanced user experience with multiple best-in-class features. If offers four or six FlexChannel inputs, each providing one analogue signal input or eight digital logic inputs by connecting a logic probe; bandwith of 200MHz to 1.5 GHZ and sample rates of 6.25Gsample/s on all analogue and digital channels; and a 13.3in, 1920 x 1080 HD resolution capacitive touch display. The 12-bit vertical resolution (16-bit in high-res mode) provides 16 times the vertical resolution of 8-bit ADCs, enabling users to capture signals of interest while minimising the effects of unwanted noise.
With both series, a digital voltmeter and trigger frequency counter are free with product registration, and many functions can be optionally upgraded, including a 50MHz arbitrary function generator, and serial bus decoding and triggering and automated power measurements for advanced analysis.
"Tektronix is a company built for engineers, by engineers, and we continued that legacy when we developed our new scopes," says Chris Witt, Vice-President and General Manager, Time Domain Business Unit at Tektronix. "Our teams spent hundreds of hours meeting with engineers around the world, testing and prototyping new features and designs, and we're excited to bring the very best oscilloscopes to market – built around insight from everyday engineers."
James McGregor, Global Head of Test and Measurement for element14, adds, "These new oscilloscopes from Tektronix deliver on usability and versatility, meaning that our customers can focus their time on innovating and solving difficult problems."
element14
1300 361 005
au.element14.com