Materials Handling & Equipment
COMPACT HYDRAULIC GANTRIES FOR HIGHER LIFT IN TIGHTER SPACES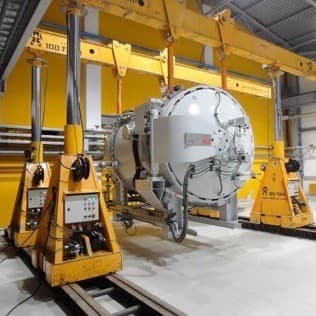 Global hydraulics leader Enerpac is introducing its new Super Lift hydraulic gantry models to Australasia, providing a higher lift capacity on a narrow 60cm track for precise lifting of heavy loads in compact spaces.
The new SL100 and SL200 gantries further extend Enerpac's globally proven Super Lift range and can lift loads from 60 to 400 tonnes in industries including manufacturing and materials handling, rail, oil and gas, power generation and bridge construction.
"The new SL gantry models can lift higher capacities in smaller spaces, making them ideal for compact or low headroom areas, such as heavy machinery, turbine, generator positioning or deck placement during bridge construction," says Enerpac National Sales Manager Darryl Lange.
Enerpac Product Line Director, Heavy Lifting Technology, Peter Crisci, adds: "The new models were designed based on the significant growth seen in relevant markets and the need for greater lifting capacities for new applications. We continue to evolve and provide new solutions for our customers to meet their needs for the diverse and changing applications."
Hydraulic gantries are a safe and efficient way to lift and position heavy loads in spaces where traditional cranes will not fit and permanent overhead structures for job cranes are not an option. Hydraulic gantries are placed on skid tracks to provide a means for moving and placing heavy loads.
"When you consider total cost of ownership, hydraulic gantries are a more cost-effective method than mobile cranes and are easier to mobilise and demobilise," Lange says. "With high lift capacities and accurate load positioning, the new SL gantry models are ideally suited to the transportation and installation of machinery and parts such as generators, transformers, compressors, vessels and bridge decks."
Essential to the gantries' performance and safety are the skid tracks it sits on, which are available in 3 and 6m sections.
"Skid tracks reduce ground-bearing pressure and ensure the gantries are aligned during travelling. Enerpac provides an angled bolt joint with our SL series to provide a smooth transition," Lange says.
The new models have been comprehensively third-party tested at 125 per cent of working load at full extension to ensure total safety and standards compliance. They are ASME B30.1-2015 compliant and have CE certification.
In addition to comprehensive testing and safety features, the new models are backed in the field by the global Enerpac organisation, which has 50 years' experience in high-pressure hydraulic equipment. Enerpac has a global 'Goal Zero' initiative in which they are aiming for no safety incidents to occur while using Enerpac tools worldwide.
The new models have lift heights of up to 9m and come with Enerpac's advanced Intellilift remote control system, which allows for an unrestricted operator position. These controls provide automatic synchronisation for lifting, lowering and travelling as well as load and stroke readouts and controls for electric side shift. Manual controls are also present at each leg of the gantry and remote controls can be wired in sites where wireless technology is not permitted.
The models are complemented by a range of features and accessories to customise their functionality to different applications. These include lifting lugs (mechanical links for lifting loads), side shift (mechanical links combined with an electric drive to shift the load along the header beam) and transport frames for side shift units, tarpaulin covers for protection during transportation or during harsh weather conditions, slings (endless grommet) according to EN 13414-3 standards, and green pin shackles.
The models are part of Enerpac's globally proven range of hydraulic gantries, including the SBL series heavy-duty boom lift, with capacities up to 1100t and the MBL series mega boom lift, with lifting heights over 12m.
Enerpac
02 8717 7200
www.enerpac.com