COMPACT ENERPAC SL400N SUPER LIFT HYDRAULIC GANTRY ELEVATES SAFETY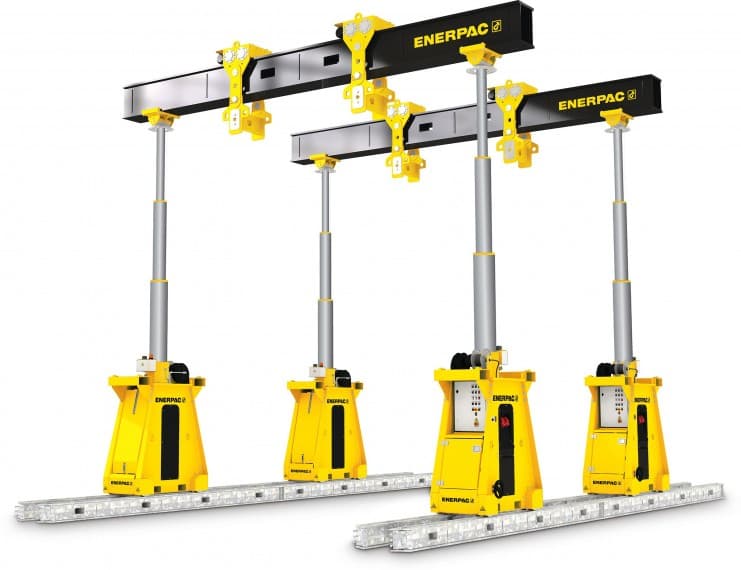 Global hydraulics leader Enerpac is introducing to Australia, New Zealand and Papua New Guinea a new super lift hydraulic gantry for safe and efficient lifting of up to 400 metric tons, even in compact and enclosed spaces.
The new SL400N super lift hydraulic gantry continues Enerpac's long history of innovation with a focus on safety. This latest addition to the Enerpac telescopic hydraulic gantry portfolio achieves high capacity and lifting height with an efficient footprint.
"The SL400N is designed based on the significant growth seen in relevant markets and the need for greater lifting capacities in tighter spaces," said Mr Tony Cooper, Asia-Pacific Marketing Manager, Enerpac. "We continue to evolve and provide new solutions for demanding applications such as manufacturing and materials handling, rail, oil and gas, power generation, heavy transport and bridge construction." 
The capacity limits of existing narrow track gantries have limited options to lift and position heavy loads in applications where traditional cranes will not fit or are too expensive to mobilise. But moving to a wider track to increase heavy lifting capacity was not an ideal solution. Working in tight spaces, like inside facilities, equipment must be compact and efficient. Enerpac engineers were able to increase lifting capacity on this newest gantry without having to go up to a wider gauge track.
The result is the SL400N, which can lift up to 400 metric tons (first stage) with an 7.7-metre lifting capacity on a standard 2 ft track. With this slender track gauge, it is easy to move the unit around existing obstacles. Operators can spend less time navigating impediments or moving them and use less resources to mobilise and demobilise the equipment. Other Enerpac innovations designed for enhanced safety and set-up simplicity of the new gantries include:
·       Standard self-contained hydraulics. Each gantry leg has a built-in hydraulic pump that minimises trip hazards by eliminating the need to connect hoses and makes the equipment easier to set up.
·       Standard self-propelled rollers. Powered by the Enerpac Drive System, the self-propelled rollers allow for synchronised travel, continuous movement, and require less space and track. It's also safer – synchronised movement maintains safety because having significant difference in leg position can lead to load imbalance, damage to equipment, or accidents.
·       Standard wireless controls. Enerpac Intellilift provides users with a safe, easy and reliable way to operate the gantry. With no cables, there are no tripping hazards and there is no risk of incorrect connections. Wireless controls save time during set up, as there are no cables to connect. Plus, they allow unrestricted operator roving position and synchronised movement, coming with built-in safety alarms.
Built-in safety
The new Enerpac SL400N has been comprehensively third-party tested, at maximum capacity at maximum extension, to ensure total safety and standards compliance. It is ASME: B30.1 compliant and has CE, welding and environmental certifications.
In addition to comprehensive testing and safety features, the new gantries are backed in the field by the global Enerpac organisation, which has more than 50 years' experience in high pressure (700 bar, 10,150 PSI) hydraulic equipment. Enerpac has a global 'Goal Zero' initiative in which it is aiming for zero safety incidents to occur while using Enerpac tools worldwide.
Complete hydraulic gantry range
The new SL400N model is part of Enerpac's globally proven range of hydraulic gantries, including the SBL Series super boom lift, with capacities up to 1,100 tons and the MBL Series mega boom lift, with lifting heights over 12,000mm.
 Enerpac Australia