COMPACT CYLINDERS MAKE MACHINES SMALLER AND MORE EFFICIENT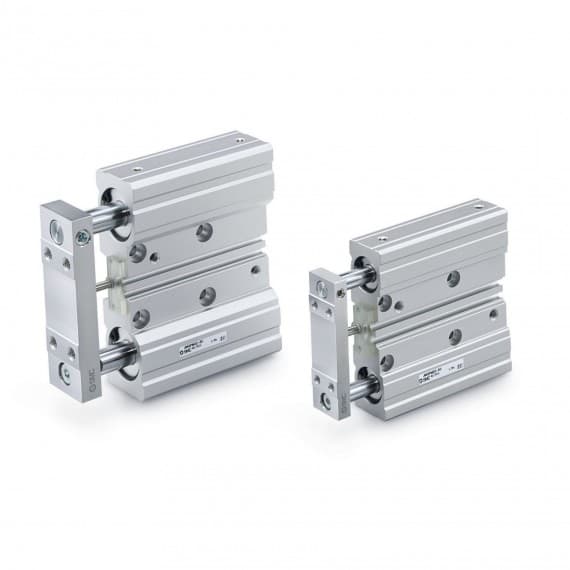 Pneumatics leader SMC is using AUSPACK 2017 to launch its next-generation compact cylinders on the Australian market. Visitors to Stand 57 at the event in Sydney will be the first to see the JMGP guide cylinder and the compact JCQ Series.
Both new series of cylinders are designed to help machine builders to save weight and space, allowing them to reduce machine sizes and costs, and deliver increased efficiency.
A key benefit of the JMGP cylinder is its small footprint, which will enable users to specify a larger cylinder size with the same footprint as an existing product. Using a larger cylinder will allow the operating pressure to be reduced while achieving the same performance, thereby reducing energy consumption.
The JMGP guide cylinder has a dual rod design, and is suitable for pushing, clamping and lifting applications where there are space and weight restrictions in a transport line or for robotic manipulation and handling. The compact JCQ is ideal for similar applications where a short cylinder is required, but without the guiding capability.
According to Tony Randall, Head of OEM & Key Accounts at SMC Australia: "With space being at a premium in many manufacturing plants, the need to produce smaller, more efficient machinery is growing. These two new models achieve just that, as they are both smaller than similar cylinders on the market. Being lighter in weight, they also achieve improved cycle times and help to deliver higher output."
The J Series will be on display on Stand 57 at AUSPACK 2017 in Sydney from 7th to 10th March.
SMC Pneumatics (Australia)
1800 763 862
www.smcworld.com