COMPACT CONTROLLER HAS BIG AUTOMATION ABILITIES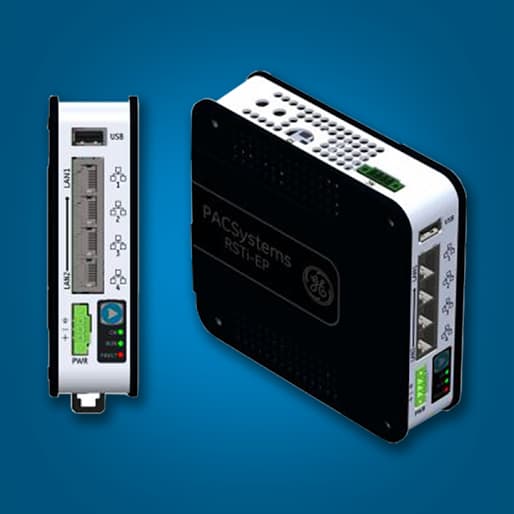 GE Automation & Controls has developed a small-form-factor programmable automation controller that will enable OEMs to improve the performance and flexibility of their machines as well as help reduce size, complexity and costs.
Available from Control Logic, the CPE100 provides all the power and functionality of a mid-range controller at a low-end controller price and only requiring 38mm of DIN-rail space.
Despite its small size, the CPE100 supports up to 2000 I/O points and has four Ethernet ports. The stand-alone CPU has a powerful 1.2GHz processor and 1Mbyte of user memory.
The new controller will fit well into existing GE installations. It speaks the same language as GE's existing RX3i controllers, allowing users to make use of existing application libraries and templates.
The CPE100 has been designed with cybersecurity in mind, with inbuilt security tools that help protect against attacks, block unauthorised code and application updates, and protect against man-in-the-middle and denial of service attacks.
The CPE100 controller is also fully integrated with GE's Field Agent for software upgrades, patches, and antivirus updates from a central location with minimal system disruption.
The controller is easy to set up using GE's Proficy Machine Edition Lite software, which also gives access to open vendor protocols such as Modbus/TCP and Profinet.
With a wide temperature range from -40 to +70ºC, the CPE100 is a robust unit, and more than capable of being used in remote locations where high ambient temperatures are experienced in summer time.
Control Logic reckons that for the price, the CPE100 is ideal for cost-sensitive OEM markets where designers are always looking to reduce size, but not functionality. And the CPE100 offers great flexibility in terms of the types of applications and the industries where it can be used.
A DNP3 version is also on the way for industries such as water, wastewater and power.
Control Logic
1800 557 705
www.control-logic.com.au