COMBINATION DRIVES ARE ENGINEERED FOR AUSTRALIAN INDUSTRY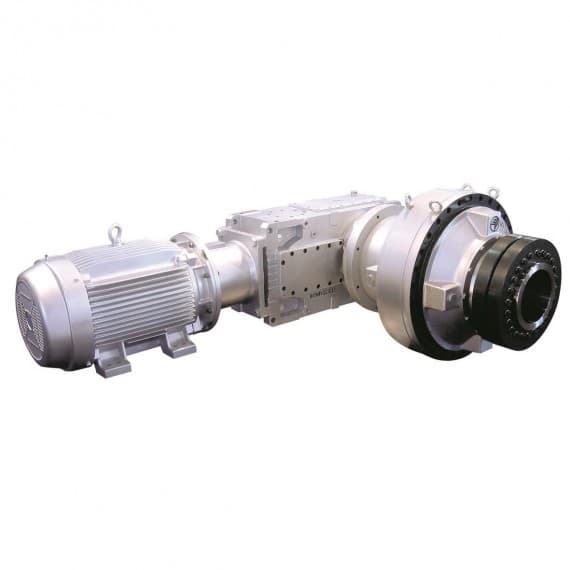 Industries in Australia and New Zealand have become international early adopters of combination industrial drives that combine the best features of two radically different gearbox types into a single high-performance unit.
Bonfiglioli Transmission Australia Managing Director Malcolm Lewis says the two drive types involved – planetary and bevel helical – are already top sellers and star performers in their own right, with the custom-engineered combination drives further extending their popularity and versatility.
"The planetary/bevel helical combination gearboxes deliver the high transmissible torque of our Trasmital 300 series along with the excellent power transmission characteristics of our locally assembled HDO series. The latest combination drives, the 3H series, are engineered in Australasia as part of a global range offering rated power up to 980kW and torque up to 1200kNm," he says.
These drives are increasingly popular in both Australia and New Zealand heavy-duty applications that demand high power density along with medium to low output speeds. They are particularly appealing to industries such as bulk materials handling, mining and resources and metals and primary processing, including paper and sugar, for example.
Compared with conventional gearboxes, 3H combination drives offer significant benefits in terms of: torque range, thermal capacity, compactness, silent running, and versatility in solutions and accessories.
Malcolm Lewis says engineers have known for a long time that planetary gearboxes such as the Trasmital series can produce outstanding power transmission efficiencies – with typical losses of only 3% per stage – all in a remarkably compact configuration.
This kind of efficiency, remarkable in gearbox design, ensures a high proportion of energy generated by motors to drive machinery is not gobbled up by mechanical losses within the gearbox that is multiplying and transmitting the torque produced.
Planetary construction dispenses altogether with the traditional arrangement of a pinion driving one large gear on a parallel shaft. Instead, the planetary gearbox surrounds the pinion (called a "sun gear") with three or more smaller planetary gears mounted in a planetary carrier (which transfers drive to the next stage of the gearbox or to its output).
High torque
Compared with a parallel shaft arrangement, a planetary gearbox in high torque/intermittent operations can often achieve the same ratio with one reduction stage fewer, saving on both size and cost.
Bonfiglioli Trasmital planetary gearboxes are delivering this performance throughout Australia and New Zealand, in applications including agitators, conveyor feeders, pumps, mixers, stirrers, scrapers and settling pond thickeners. They also have applications in mobile plant, including cranes, drilling rigs and drives for hoists and luff and slew equipment. The Trasmital 300 series comes in 16 basic sizes, with output torque up to 650kNm and transmissible power up to 450kW.
"But the versatile planetaries are not necessarily the ideal gearbox in every situation," says Lewis. "As a producer of a full range of technologically advanced gearboxes – from the smallest worm boxes up to the biggest planetaries – Bonfiglioli appreciates that there are horses for courses."
Which is why Bonfiglioli's modular Trasmital 300 multipurpose planetary drives are being coupled with the latest HDO bevel helical units to produce combinations custom-engineered to the needs of particular industries. Bonfiglioli's in-house Australasian engineering, assembly and testing capabilities have furthered development and acceptance of the drives, expanding their use Down Under.
"HDO drives – star performers globally, which are assembled in Australia up to the large HD160 size – produce outstanding reliability and torque densities to record values," says Lewis. "Tailored to customer requirements through our assembly and service facilities in Australia and New Zealand, they feature excellent torque distribution across their entire ratio range, with gear ratios laid out in close progression and the drives having a rugged capacity to cope with the shock and impact of intermittent loads.
"When combined with the 300 series Trasmital planetary, they are ideal in many slow-moving applications where high output torque is required. The advantage of the combinations over traditional gearboxes is most evident in their low weight, higher output and highly competitive price.
"Using the HDO also means we can change motors very easily and use big motors in applications such as chain conveyors, shuttle drives and apron feeders."
HDO/Trasmital combinations are among a range of advanced and versatile heavy industrial drives engineered by Bonfiglioli in Australasia. The HD series has also been incorporated into a new series of drives, including a trio of Hi Torque, Alignment-free and Power Pack innovations.
Bonfiglioli's Drives Service Centre, coupled with local assembly of heavy drives, enables Bonfiglioli to respond swiftly to the local industry's rapidly developing needs for drives required to avoid costly delay or downtime.
"The unique DSC facility recognises that many non-standard heavy duty applications today require non-standard solutions to achieve best results," says Malcolm Lewis.
Bonfiglioli Transmission (Australia)
02 8811 8000
www.bonfiglioli.com.au